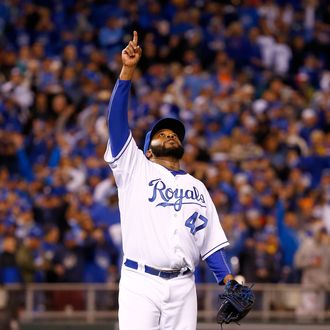 Johnny Cueto.
Photo: Jamie Squire/2015 Getty Images
For a few innings, Game 2 of the World Series appeared to be a classic pitcher's duel. Through four frames, Royals starter Johnny Cueto looked sharp, and so did Jacob deGrom, who didn't appear fatigued despite the concerns of his own manager. But then deGrom had as bad an inning as he's ever pitched in the fifth, while Cueto kept on cruising. The Royals' righty would go on to throw a complete game two-hitter, and with a 7-1 Royals win, the series will shift to New York with the Mets in a 2-0 hole.
DeGrom's outing fell apart in the fifth, when with the Mets up 1-0 thanks to a well-placed Lucas Duda RBI single, the Royals showed just how relentless their lineup can be. After an Alex Gordon walk and an Alex Rios single, Alcides Escobar inexplicably tried to lay down a bunt. But after two failed attempts, he swung away and singled to center, tying the game at one. A ground-out advanced the runners, and then after deGrom got the second out, Eric Hosmer singled in two more runs to give Kansas City a 3-1 lead. The Royals still weren't done: Kendrys Morales moved Hosmer to third with a single, and then Mike Moustakas drove him in to give Kansas City a 4-1 lead.
All nine men in the Royals lineup batted in the fifth, and the four runs and five hits allowed by deGrom in the inning both tied career worsts. DeGrom especially had trouble putting away hitters in a Royals lineup that struck out less than any team in the majors this season. In that fifth inning, he got two strikes on five different batters, three of whom reached base. Via the Fox broadcast, on the night, deGrom only got three swings and misses (tying a career low), and didn't get any on the 24 pitches he threw with two strikes.
Game 1 was an unpredictable, bite-your-fingernails affair in which the Mets didn't truly look doomed until the bottom of the 14th. But Mets fans had to suffer through the second half of Game 2. After deGrom fell apart, Johnny Cueto continued to dominate the Mets' offense. Coming off a disastrous start in Game 3 of the ALCS, Cueto faced the minimum number of hitters in seven of nine innings, and he became the first American League pitcher to earn a complete-game win in the World Series since Jack Morris in 1991. Both hits Cueto allowed came off the bat of Lucas Duda, and neither was hit particularly hard.
The game got out of hand in the eighth, when Kansas City added three more runs off the Mets bullpen to pad their lead. But with Cueto in command, Kansas City didn't need them very much.
The Mets looked invincible during the NLCS against the Cubs, but now in the World Series, not only did deGrom fall apart in Game 2, their defense has been an issue, they're not getting hits in big spots, Daniel Murphy isn't crushing homers like the second coming of Barry Bonds, and the bullpen has let them down. The Mets hadn't fallen behind in a series through two rounds, but now they're down two games as they come home to Citi Field and turn to Noah Syndergaard to get them back into the series on Friday night.