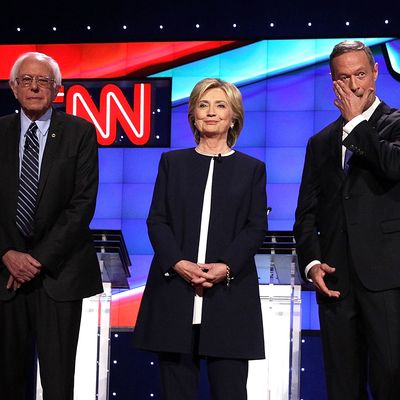 Jim Webb, Bernie Sanders, Hillary Clinton, Martin O'Malley, and Lincoln Chafee at the CNN debate on October 13, 2015 in Las Vegas, Nevada.
Photo: Alex Wong/Getty Images
On Tuesday night the Democratic presidential candidates reminded everyone that debates can be fun — and actually substantive — even without Donald Trump. Front-runners Hillary Clinton and Bernie Sanders got into some interesting exchanges on capitalism, gun control, and Emailgate, though Clinton was clearly the night's biggest winner. Clinton's performance on the campaign trail has been mediocre, but in Las Vegas she deftly navigated Anderson Cooper's questions, and came off as the most experienced and personable candidate onstage (it's almost like she's had a lot of practice with debates). For the most part the other candidates — Lincoln Chafee, Martin O'Malley, and Jim Webb — showed Americans there's a reason they know almost nothing about them. Here's a look at some of the highlights.
Clinton wants to "save capitalism from itself."
Anderson Cooper started out by questioning the candidates on some of their biggest weaknesses. Unsurprisingly, Sanders was ready to back up his recent declaration that he's not a capitalist, saying, "Do I consider myself part of the casino-capitalist process by which so few have so much and so many have so little, by which Wall Street's greed and recklessness wrecked this economy? No, I don't."
Then Clinton jumped into the discussion. "When I think about capitalism, I think about all the small businesses that were started because we have the opportunity and the freedom in our country for people to do that and make a good living for themselves and their families," she said. "I don't think we should confuse what we have to do every so often in America, which is save capitalism from itself."
As Vox notes, their exchange gets to the heart of the division in the Democratic party over the role large corporations should play in America — which is why it's too bad that Cooper changed the subject.
Sanders and O'Malley spar on gun control.
As expected, Clinton went after Sanders on gun control, one of the few issues where she can attack him from the left. When asked about his vote to pass a law that helped shield gun manufacturers from legal liability for gun violence, Sanders said it was a "large and complicated bill." Clinton, who voted against the bill when she was in the Senate, said, "It wasn't that complicated to me. It was pretty straightforward to me that he was going to give immunity to the only industry in America — everybody else has to be accountable, but not the gun manufacturers, and we need to be able to stand up and say enough of that, we're not gonna let it continue."
Sanders has argued that guns are viewed differently in more sparsely populated states like Vermont, but O'Malley took issue with his claim that it's a rural versus urban issue. "You have not been in the United States Congress," Sanders replied. "And if you think that we can simply go forward and pass something tomorrow without bringing people together, you are sorely mistaken."
Sanders gives Clinton a huge gift on Emailgate.
Clinton drew cheers from the crowd when she pinned her ongoing email scandal on Republicans, saying, "This [Benghazi] committee is basically an arm of the RNC." But there's nothing like having your rival leap to your defense. "Let me say something that may not be great politics, but I think the secretary is right," Sanders said. "The American people are sick and tired of hearing about your damn emails!" Clinton even capitalized on the moment by offering Sanders a warm, non-robotic handshake.  

Chafee's Iraq War attack backfires.
When Chafee questioned Clinton's judgment in light of her vote for the Iraq War in 2003, she said she'd already settled the issue with President Obama. "I recall very well being on a debate stage, I think about 25 times, with then-Senator Obama debating this issue. After the election, he asked me to become secretary of State," she said. "He valued my judgment and I spent a lot of time with him in the Situation Room going over some very difficult issues."
Chafee essentially escorts himself out of the race.
His campaign was already going nowhere fast, but he put it out of its misery by explaining that he voted to repeal the Glass-Steagall Act because he'd just taken office and didn't really know what he was doing.
Clinton plays the "female president" card, doesn't deny she's running for Obama's third term.
Though later in the debate she declared, "I'm not just running because I would be the first woman president," when asked how her administration would not be a third term of Obama's presidency, all Clinton could come up with was: "Well, I think that's pretty obvious. I think being the first woman president would be quite a change from the presidents we've had up until this point, including President Obama." Pressed for policy differences, she said she'd like to "build on the successes of President Obama," and push them further.
Jim Webb boasts about that time he killed a man.
Anderson Cooper went with "Which enemy are you most proud of?" for his "fun" question, so the world will never know what Chafee wanted his Secret Service name to be. But the candidates' answers were revealing. Clinton had trouble naming just one enemy, but Webb, a Vietnam veteran, managed to top her. "I'd have to say the enemy soldier that threw the grenade that wounded me, but he's not around right now to talk to," he said, smiling. If Webb had led with that he probably wouldn't have spent the entire debate complaining that he wasn't getting enough time to speak.