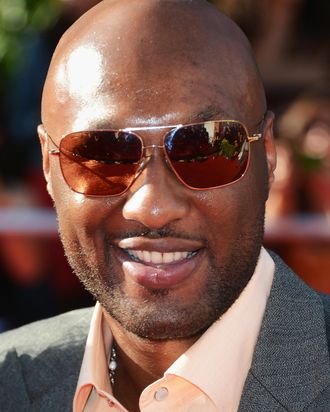 Lamar Odom.
Photo: Frazer Harrison/Getty Images
Former NBA star Lamar Odom is in a Las Vegas hospital after being found unconscious at a brothel outside the city on Tuesday afternoon, the Nye County Sheriff's Office said in a press release. The last update on Odom's condition provided by TMZ — which broke the story, and appears to have a reporter at the hospital — had the former Lakers forward in a coma, his heart failing.
Odom's 14-year NBA career was cut short by recurring problems with crack cocaine. Sources at the Nevada brothel told TMZ that Odom had been staying there since Saturday, "partying with the girls for days." However, Dennis Hof, owner and proprietor of the "Bunny Ranch," where Odom was found, told the New York Post that the only drug the women saw him taking was an herbal substitute for Viagra.
Odom was well-liked in the basketball world, where he was considered one of its funniest players. He won two NBA titles with the Lakers in 2009 and 2010, and won the Sixth Man of the Year Award in 2011.
But among non-sports fans, Odom is best known for his marriage to Khloé Kardashian, which made him an occasional presence on the family's hit reality series, and then the star of a spinoff centered on the marriage, titled Khloé and Lamar. Kardashian filed for divorce from Odom in 2013, citing irreconcilable differences. Odom reportedly "ambushed" Kardashian outside a Beverly Hills SoulCycle back in August. Shortly after, he told In Touch that Kardashian was his "soul mate."

"I can't control it," he said. "We'll never part. I would never consider myself serious with another woman."
Representatives from both these spheres of Odom's life are reportedly at his bedside Wednesday morning: The Daily News reports that Lakers star Kobe Bryant and Khloé  Kardashian were both seen entering the Vegas hospital.