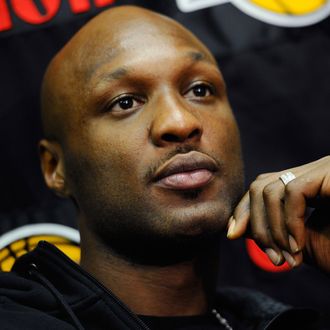 Photo: Kevork Djansezian/Getty Images
Three days after being found unconscious at the Love Ranch brothel in Nevada, former NBA star Lamar Odom is reportedly conscious and breathing without a breathing tube at a hospital in Las Vegas. He gave his doctor a thumbs-up when asked how he was doing, according to ET, and said he wanted to see his children. 
However, ESPN reports that Odom is still in critical condition; a source told them he was "not out of the woods yet." He was rushed to the hospital after spending four days — and $75,000 — at the brothel. Odom used cocaine and reportedly took around ten Viagra substitutes considered dangerous by the FDA during his stay. Authorities took a blood sample from Odom to try and determine what caused him to become unresponsive, with blood coming out of his nose and "white stuff" spilling from his mouth, but it could take weeks for the results to come back. Odom was put in a medically induced coma on Wednesday.
Odom reportedly spoke to his estranged wife, Khloé Kardashian, when he woke up, before going right back to sleep, according to E!. Several other Kardashians — they've canceled upcoming events and stopped publishing on their apps because of Odom's condition — are at the hospital, along with Odom's children and father. Several of Odom's former teammates, including Kobe Bryant, have also stopped by.
Kardashian and Odom filed divorce paperwork three months ago, but a backlog means the split has yet to be finalized. Dennis Hof, owner of the Love Ranch, has been the source of many of the details about the days that preceded Odom's coma — and he's not happy that a Kardashian publicist asked him to stop talking to the press. "I said, 'Excuse me, this is my place of business, and I know what happened," Hof told NBC News, "and Khloe Kardashian is not going to speak for me. And would you do me a favor? Tell Khloe Kardashian to go to hell.'"
Security at the hospital is intense. One woman visiting her daughter at the Sunrise Hospital and Medical Center's intensive care unit told the Los Angeles Times, "The night he got here, they told us that a celebrity was coming in and that we would have to stay in the room on lockdown for two to three hours, but they weren't sure how long it would be." The husband of a patient on the same floor as Odom added to CNN, "All throughout the night there is banging and clicking as his entourage, managers, basketball players, and what not coming and going off the floor."