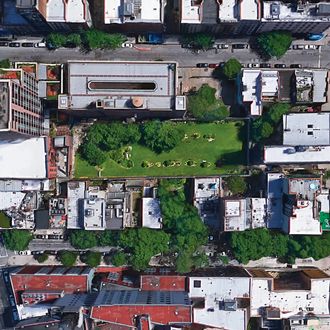 The New York Marble Cemetery in the East Village.
Photo: Google Earth Pro
It was a Sunday, open-gate day at the New York Marble Cemetery, a small burial ground in the East Village made up of 156 underground vaults. Caroline DuBois, president of the board and future occupant of vault No. 54, sat on a bench under two multicolored umbrellas. Brochures and a donation jar sat on a table in front of her. "I think it would be the perfect gift for a hedge-fund billionaire to give his sweetheart," she said. 
She was referring to the family vaults she is set on selling, each built to fit a dozen or so decedents. (Or more: Each generation gains some space as the previous ones turn to dust.) They are the last two inground burial plots openly available in Manhattan. (Trinity Church's uptown cemetery has a few spots reserved for VIPs, but they are not freely sold.) For the privilege of remaining dead on the island where so many want to live, the trustees ask $350,000 per vault. "When you only have two, why give them away?" asked Robert Breck Denny, a trustee and a likely resident of No. 38, who was sitting near DuBois. To come up with their price, the trustees researched the cost of comparable grave sites — "in San Francisco, in Hong Kong, in Paris" — and "basically, did a market analysis." The monthly open-gate day is one way they hope to find buyers.
"It was originally $250 to buy a vault" when the cemetery opened in 1830, Denny said. "I think it was the same amount to buy a good car."
"A good saddle horse," corrected DuBois. "It was also the wages of a servant for one whole year, or five acres on Long Island."
"But anyhow," said Denny, "the people who bought them were pretty well fixed."
At noon, curious passersby began to trickle in. Unlike most cemeteries, this one has no visible gravestones, just a lawn. The vaults are underground, in rows, marked with plaques set into the surrounding walls. A few of them display familiar names: Scribner, Auchincloss, Van Wyck. A visitor named John Tymkiw, wearing headphones, stepped up to the table and reached for a brochure. "Are people still buried here?" he asked.
"Oh, yeah. You are standing on top of underground rooms," said DuBois, gesturing toward the grass.
"Whoa!" said Tymkiw.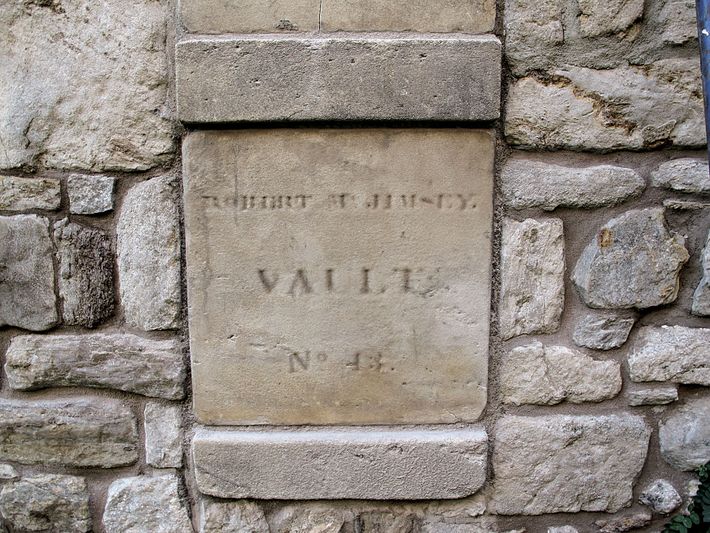 DuBois had decided not to bring up the vault sale with everyone. "It's not my marketing strategy," she explained as Tymkiw wandered out. "We are subtle; I don't have to tell everybody in the world."
"We are looking for someone with strong ties to New York," Denny added.
"And an upward-mobility checkbook," said DuBois.
As they fielded questions — "Are people buried in the walls?" "Are there ghosts?" — Laura Nicholson (vault No. 4), who was trimming some hedges, came over to chat. "I have someone in mind who made a fortune in the investment business," she said.
"And you didn't bring him today?" DuBois asked. "What's wrong with you?!"
"I should, but I know he's not the age where he wants to think about this stuff."
"But it's not just about him," said DuBois. "What happens if his child gets the chicken pox, you know?"
"Chicken pox ain't gonna kill you anymore!" said Denny, laughing.
"Dammit," said DuBois, who, as trustee, spends a lot of time looking at 19th-century records. "You know what I'm saying, though. You have to be prepared."
After a few hours, it became clear that the day would not yield a sale. "It's going to be a long process," DuBois said, undeterred. "We have a vision for this."
"I think," said Nicholson, taking off her gardening gloves, "you have more of an eternal philosophy." By 4 p.m., they were ready to lock up. "This is always the hard part," said DuBois. "Getting everyone out."
*This article appears in the October 19, 2015 issue of New York Magazine.