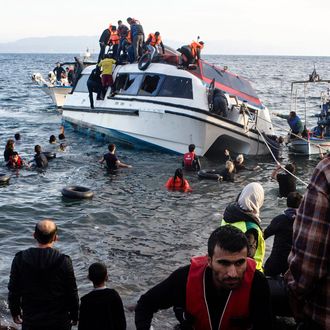 Volunteers and local residents help refugees and migrants disembark from a small vessel after their arrival in Skala Sykaminias on the northeastern Greek island of Lesbos.
Photo: Kostis Ntantamis/Corbis
Two ships full of migrants desperate to reach Greece capsized on Friday, leaving at least 22 people dead. At least 140 people were rescued from the two wrecks, while a few are still missing. At least two children were among the dead. 
On Wednesday, another 16 migrants died when a cheaply made wooden boat broke into pieces. Near Spain, 35 migrants are still missing from another shipwreck coming from Morocco; six bodies have been found. 
At least ten other drowned children were found this week near Greece, and nearly 600 people have been rescued from ships just in the past day, according to NBC News. The New York Times quoted a Facebook post from an English volunteer: "We have lines of children half dead waiting to be hung upside down so we can pound the water out of their tiny lungs — boat after boat. We have ambulances, wailing, soaked, terrified people. The whole thing is an abomination against humanity."
"I want to express my endless grief at the dozens of deaths and the human tragedy playing out in our seas," Prime Minister Alexis Tsipras told the Greek parliament on Friday. He added, according to NBC News, "These are hypocritical, crocodile tears, which are being shed for the dead children on the shores of the Aegean. Dead children always incite sorrow, but what about the children that are alive who come in thousands and are stacked on the streets? Nobody likes them." Tsipras then called the response to the migrant crisis "inept" and blamed the Western countries at war in the Middle East for adding to Greece's many problems. "Those who sowed winds are reaping whirlwinds, but these mainly afflict reception countries."
More than half a million migrants, many escaping Syria, have arrived in Greece this year, hoping to continue on to Germany and other welcoming European countries — a resource that grows more scarce every day as worried leaders start building walls and setting quotas to try and control the perpetual tide of potential refugees. Germany plans to accept at least a million migrants — and is struggling to make sure it can build shelters and other necessary infrastructure at a pace fast enough to keep up with the influx. "Our local authorities are extremely burdened, and that's the problem," said Michael Roth, Germany's minister of State for Europe, according to USA Today. "We need more time. … The refugees are here now, and we have to treat them in the best way we can. We can't say to the refugees, 'Please, wait, two or three months and then come.'"