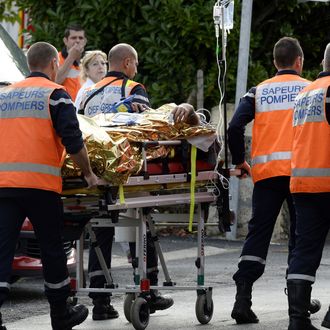 Emergency services personnel take away an injured person from the site of a collision in Puisseguin.
Photo: Jean-Pierre Muller/AFP/Getty Images
A bus carrying dozens of elderly people on a day trip crashed outside of Bordeaux on Friday morning, leaving at least 43 people dead. "We have not seen such a catastrophe on our roads for over 30 years," Prime Minister Manuel Valls told reporters, according to the New York Times. 
In 1982, 53 people — including 44 children — died in a bus accident in France. 
Residents of Petit-Palais-et-Cornemps, the town the bus left from, are worried about who wouldn't be returning today. Most of the people on the bus were part of a local senior-citizens club; the group planned to visit a ham factory on Friday. One resident told the Times, "It's a whole generation that is gone."
At least eight passengers managed to flee the bus through windows before it burst into flames — a few of them are seriously injured or covered in burns.
The authorities aren't quite sure why the bus burst into flames so quickly — the reason why so few of the elderly passengers managed to escape.
The bus was reportedly on a rural road when a large truck carrying wood careened into it, causing both to explode in fire. That curving section of the road is known as a "notoriously dangerous" one, according to locals who spoke to the BBC. The bus driver survived, the person driving the timber truck did not. A 3-year-old boy was also found dead in the wood truck. 
The French government is investigating the accident.