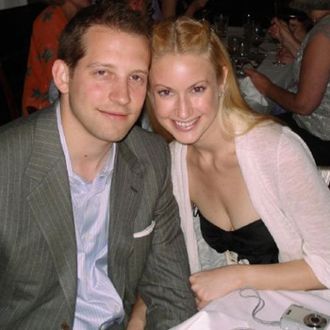 Facebook photo of Kiersten Rickenbach Cerveny, a dermotologist who was found dead Sunday morning.
A Manhasset doctor was found dead of an apparent drug overdose in the doorway of a Chelsea apartment building Sunday morning.
The victim, identified as Kiersten Rickenbach Cerveny, a 38-year-old dermatologist and mother of three, was found in the vestibule of a walk-up on West 16th Street around 8:30 a.m. EMTs were called. A resident of the building told the New York Post, "She came out topless. Her face was white and her lips were blue."
Cerveny lived on Long Island with her husband and children. She told her husband she was going out with girlfriends Saturday night, and reportedly had been barhopping around the Lower East Side. According to the Post, she came to Manhattan to meet up with a TV producer who is a Facebook friend, law-enforcement sources told its reporters on Monday.
The two were attending a party on the third floor of the 16th Street building late Saturday night, DNAinfo reported. They spent three hours at the party before Cerveny overdosed, sources told the website. Surveillance video captured footage of a pair of men carrying her body down the stairs of the building and dumping her in the entrance, according to the Post report.

One of the men was questioned by authorities but was released without charge. Medical personnel reportedly found bruising around Cerveny's neck, but sources say the marks were from a previous medical procedure.
Investigators believe the TV producer reported Cerveny's condition to police and "took off running toward Eighth Avenue" once the ambulance arrived. Sources said he later called authorities again to ask if Cerveny had survived.
"She had on pants, but no top or shoes. She was naked and wasn't moving. Her eyes were closed. She was very white. It was scary," Manuel Guaman, a nearby deli worker, told DNAinfo.
The tragedy was quickly turned into a morality tale by the tabloids, which, among other things, reported that the blonde former America's Junior Miss wasn't wearing underwear when she was found — and that frequent drug use and partying was her "dark secret."
Cerveny attended Duke University and earned her medical degree from Tulane. She worked at Brooklyn Hospital Center and Weill Cornell Medical College. Cerveny was pronounced dead at Lennox Health Greenwich Village Sunday morning. Autopsy results are expected later Monday.