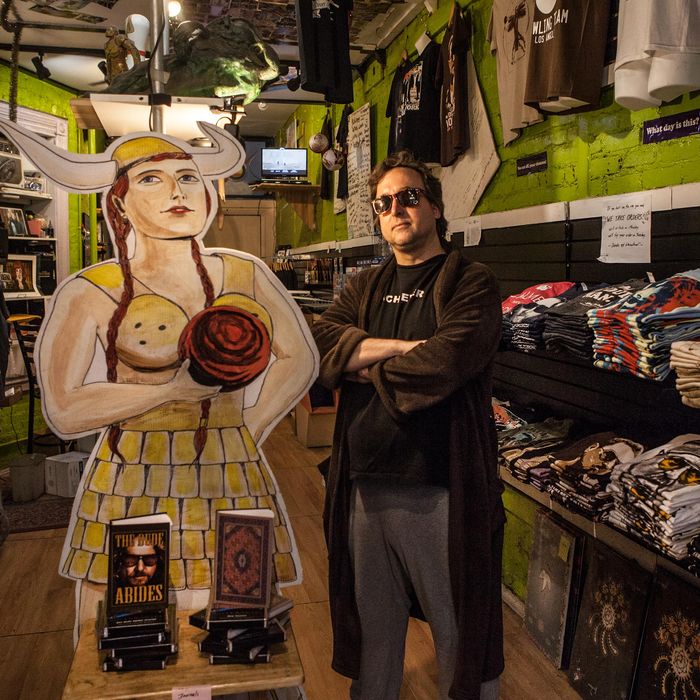 Photo: Konstantin Sergeyev
Roy Preston doesn't really look like the Dude, but for the last five years he's done his best impersonation in the Little Lebowski, New York City's only shrine to the 1999 Coen Brothers' film The Big Lebowski. In its current state, the Greenwich Village store includes a few life-size cardboard cutouts of characters, a small TV (for Lebowski on loop), a miniature bowling alley, and not one — but four — rugs that really tie the room together.  
Early this month, Preston announced that the time had come to wrap 'er all up and close the store for good at the end of October.
In some ways, the story of the Little Lebowski is a tale of the perils of retail entrepreneurship. Preston originally opened the shop at 215 Thompson Street, near Bleecker, as a children's bookstore in late 2007. It ran into trouble almost immediately. The economy started to tank and Washington Square Park, a couple of blocks north, closed for renovations. "All of the foot traffic on Thompson Street completely dried up," he remembers. No one was buying children's books, at least in his shop, so Preston scrambled to find a new format for the store. For a while he sold toys, then souvenirs for tourists, then comic books, but the place seemed doomed. Preston lost his apartment and had to sleep in the store. For three straight years.  
In mid-2010, Preston gave up. "We were on the verge of being evicted from the store and I decided to sell some Big Lebowski T-shirts as a joke. I figured if I'm going to go homeless I might as well have a little fun. They ended up being the only things that sold consistently."
Preston saw a glimmer of opportunity and doubled down on it. He took out a new batch of loans, borrowed some money from his parents, and made the store a wall-to-wall tribute to a decade-old movie that, itself, lost money on its initial run.
Preston abided, and business abided right back.
The store's fortunes reversed dramatically when Jeff Bridges's Oscar win in 2010 drew attention to his earlier roles. The Big Lebowski's cult status was affirmed, and Preston started keeping the place open all night to capitalize on the interest. He knew he was onto something when a customer came in and told him, "I live in the neighborhood, but I heard about your store in England."
In its heyday around mid-2011, "The festivities would begin on Wednesday afternoon at 4 p.m. [Bar crowds] used to come up and down the streets in hordes and they would be here until the wee hours of Sunday morning buying stuff." Preston would dress up and act like the Dude as in-store theater and serve White Russians on the sly to customers. The best seller? The Dude bobble heads.
Preston says things were looking up and the store started paying off its debts.
But even a tiny store with an eccentric mission can be swamped by larger forces. It was right around the time of Sandy (when the lights shut off in the area) three years ago that things started to turn bad again. The neighborhood was becoming more upscale, and the old bar crowd who would drop in to shop (maybe after having a couple) were being pushed out. The last straw was the European financial crisis; The Little Lebowski relied on tourists as its daytime clientele, and lately he's seen fewer of them, too. "Everyone who comes in now is broke," he complains. "They'll look around for a little while, say 'cool store, man,' and leave."
Or maybe it was just a peculiarly compelling idea that ran it's course.
Now there's no point in Preston putting the bathrobe on anymore.
He plans on continuing to sell Lebowski paraphernalia online. When asked if he was going to miss the place he stuck with (and slept in) for so long, he replied, "Oh, of course, but it's time to chase some new windmills."