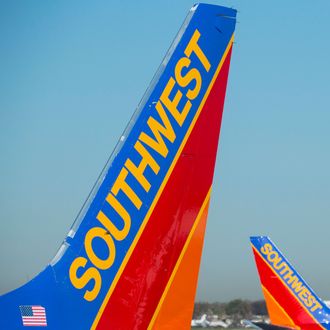 A Southwest Airlines flight made an emergency landing on Sunday night after a man choked the woman seated in front of him for reclining her seat, witnesses told NBC News. 
Flight 2010 from Los Angeles to San Francisco had only been in the air for 13 minutes when the altercation forced the pilot to declare an emergency and turn back for LAX, according to local channel KGO.
"I thought it was a terrorist so I jumped up. I didn't know what to do. A guy got into it with a lady and choked her or something," San Fransisco radio host and comedian Mark Curry told NBC Bay Area. "The lady was frantic. They wanted me to put restraints on the guy. They asked me if I would help. I said, 'At 30,000 feet, yes! I'll beat anybody down.' It was an incredible situation."
In an Instagram post that has since been deleted, a passenger named Melanie wrote in German that she saw a man "strangling a woman because she tilts her seat back," appending her eyewitness account with the hashtags #dramababy and #welcometola. In a subsequent interview with NBC News, Melanie said the male passenger "started choking her. She shouted for help and the crew came to see what happened. The man stayed very calm during the whole situation."
All 136 of the flight's nonviolent passengers were put on another plane and arrived in San Francisco five hours late, reports the San Fransisco Chronicle. The alleged choker was detained by authorities, but an FBI spokesperson told gathered reporters that no charges have been filed.

Episodes of "recline rage" have been on the rise ever since airlines started shrinking the space between seats. Last year, one passenger on a flight out of Newark prevented the person seated in front of him from reclining via a device known as the Knee Defender, setting off an argument that ultimately forced the plane to make an unscheduled landing in Chicago. Most U.S. airlines prohibit the contraption's use.