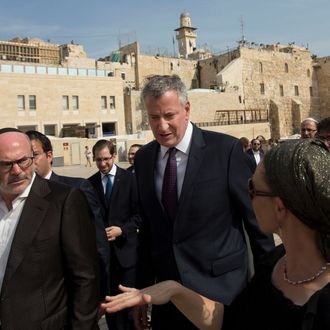 Bill de Blasio walks at the Western Wall.
Photo: Sebastian Scheiner/AP/Corbis
Mayor Bill de Blasio returned from his weekend trip to Israel on Sunday, a trip that had been forced to accommodate many last-minute changes because of ongoing violence in the region. 
The trip to Israel wasn't a surprise — many of de Blasio's predecessors also visited the country as a sign of solidarity. However, de Blasio planned on making a few unlikely pit stops, like a trip to visit Palestinians in the occupied West Bank. However, after a month of violence that has left dozens of Palestinians dead and several Israelis stabbed to death in knife attacks, his team decided it would be safer to visit a school in Jerusalem that teaches Jewish and Arab children. 
De Blasio was also more taciturn when it came to policy. Back in March, when Prime Minister Benjamin Netanyahu won reelection, de Blasio said, "There's many of us who are deeply, deeply disappointed. For a Israeli prime minister to say literally overnight we're not going to pursue a two-state solution anymore is seismic and it's a huge step backwards for peace in the region."
This weekend, de Blasio said, "I don't want to pretend to understand the nuances of the situation. I think it's important as an outsider to not claim to know more than I do. I think this is a larger human reality, that peace is necessary, attacks on civilians are unacceptable, and no civilian leaders should ever condone attacks on civilians."
De Blasio and Netanyahu met on Sunday afternoon. "God, you're tall," Netanyahu told de Blasio, according to the New York Daily News. "I'm very glad that you're here, and I look forward to having a good discussion with you."
Despite acknowledging that the situation in the region was complex, the mayor reiterated his support for a two-state solution. "I believe it's the only way forward," he told NY1. De Blasio also visited the Western Wall and gave a speech on anti-Semitism to the Conference of Mayors.
On his flight back to New York, the Red Sox fan watched the Mets play. "I'm thrilled for the Mets," he told the Daily News. "I expect to arrive [back in New York] and find out about another victory." When asked to pick whether he'd rather have peace in the Middle East or have the Mets win the World Series, he laughed, "We need both."
The trip was paid for through a donation — approved by the city's Conflicts of Interest Board — from Israeli businessman Baruch Eliezer Gross.
Meanwhile, the Israeli government has responded to the recent stabbing attacks by blocking roads around Arab neighborhoods with huge concrete cubes. A senior Netanyahu adviser told the AP that "Israel has no interest in creating divisions in Jerusalem" and that the country "has a right to use the same security measures which every other city facing urban rioting has used." On Sunday, hundreds of soldiers were sent to guard public transportation in Jerusalem after an attack at a bus station left one Israeli soldier dead and ten others wounded. An Israeli security guard responding to the attack also shot an Eritrean migrant, assuming he could have been the assailant. The migrant was killed and reportedly beaten and kicked in the streets after he was wounded by observers who also assumed he was responsible for the attack. 
Much of the violence was sparked by worries that Israel was trying to restrict Palestinians' access to the Al-Aqsa Mosque — a change in policy that would violate a decades-old truce. Israeli officials say they have no plans to change the status quo.
Because of the increasing tensions, Secretary of State John Kerry — who called this weekend's violence "senseless" — plans on meeting with Netanyahu and Palestinian Authority president Mahmoud Abbas separately this week. 
This post has been updated throughout.