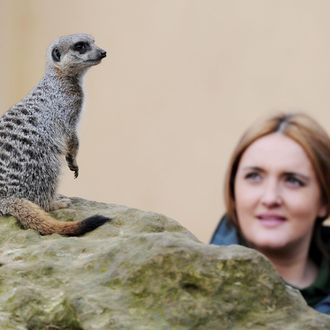 Caroline Westlake, former meerkat handler.
Photo: Carl Court/AFP/Getty Images
A judge in London sentenced a former meerkat keeper at the London Zoo to 12 months of community service after she attacked a monkey handler who was dating her former boyfriend — the resident llama caretaker — with a wine glass at a company Christmas party. She will also have to pay her former colleague $1,235 in compensation — the glass broke when it hit her face, forcing her to get stitches. 
The meerkat expert, who had previously been convicted of assault and has been fired from the zoo, according to the Telegraph, says that the monkey keeper punched her first, and that she has no recollection of glassing her. "This is not a case where somebody has deliberately sought to inflect injury on another person," her lawyer argued. "The complainant must accept some responsibility for the injury that occurred."
District judge Jeremy Coleman, on the other hand, said that the now-unemployed zoo worker got off easy given how "nasty" the injury was, saying, "It's an unpleasant injury to someone's face which makes it rather worse. It was caused by a glass so an object was used so really a more serious charge against you could easily have been justified."
It was not clear if the London Zoo has received an increase in queries from visitors eager to watch the employees in their natural habitat, or if the zoo animals were sad that their favorite nature documentary had finally come to an end.