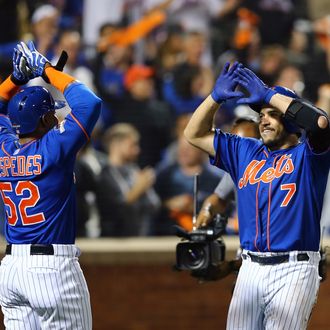 Yoenis Céspedes and Travis d'Arnaud.
Photo: Elsa/2015 Getty Images
The Mets faithful hoping for a #WinForRuben got exactly what they wanted in Game 3 of the NLDS Monday night. The Mets scored ten unanswered runs after falling behind 3-0, and beat the Dodgers 13-7 to take a 2-1 series lead. Actually, it might be more accurate to say that Mets fans got almost exactly what they wanted, as the more bloodthirsty among them would have also liked to have seen Chase Utley plunked for their amusement. But two days after breaking Rubén Tejada's leg on a vicious slide, Utley never made it into the game, even though he's eligible to play as he appeals his two-game suspension. In any case, on a night when Matt Harvey didn't have his best stuff, he got more than enough run support as the Mets moved within a win of a berth in the National League Championship Series.
Utley, as you might imagine, was booed loudly by the Citi Field crowd during player introductions:
Meanwhile, Mets fans carried anti-Utley signs ranging from the playfully mean …
… to the tastelessly over-the-top:
Tejada, as you might imagine, got a huge ovation when he was introduced and took the field rocking a Mets cane.
The Mets fell behind 3-0 in the top of the second, but they responded with four runs in the bottom half on a Travis d'Arnaud RBI single and a Curtis Granderson three-run double. They'd add a run in the third on a d'Arnaud homer, and Daniel Murphy drove in a run in the fourth to extend the Mets' lead to 7-3. But the party truly began later that inning when Yoenis Cespedes, whose trade-deadline acquisition sparked the team's playoff push, crushed a long, loud three-run homer to give the Mets a commanding 10-3 lead in their first home postseason game in nine years.
With the game comfortably in hand, Mets fans began chanting "We want Utley." Left unsaid was that they wanted to see him in the game so they could boo him some more, and perhaps see some Mets pitcher drill him in retaliation for the Tejada slide. Terry Collins had told Harvey not to target Utley, as it could have led to a costly ejection. But with the Mets on their way to a blowout win, the home fans couldn't help but dream.
Of course, things are rarely easy for the Mets, and even though they'd take a 13-4 lead into the ninth, a Howie Kendrick homer off Erik Goeddel cut the lead to 13-7, and after Goeddel allowed still another base runner, Terry Collins, taking no chances, brought in Jeurys Familia to close out the win.
The Mets can now finish off the Dodgers in Game 4 at Citi Field on Tuesday night. They'll send rookie Steven Matz to the mound, while Clayton Kershaw is set to pitch on three days rest to try and save the Dodgers' season.