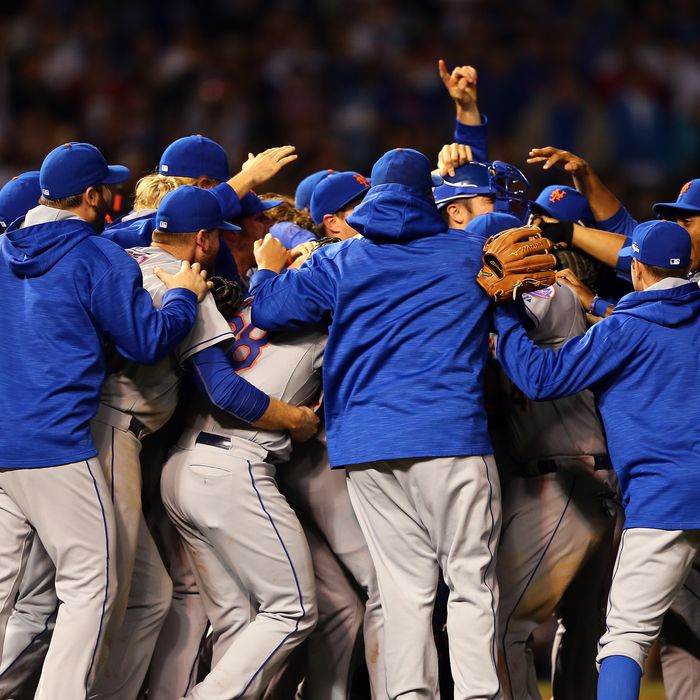 The 2015 National League champion New York Mets.
Photo: Elsa/2015 Getty Images
On Wednesday night, the Mets finished off a sweep of the Cubs in the NLCS in which they didn't trail Chicago at any point. The website WhoWins.com, which tracks stats for seven-game series in different sports, has a term for that: a best-of-7 annihilation. Is that phrasing a bit extreme? Perhaps. But considering how stunningly one-sided this NLCS was, it's a pretty apt description here. The Mets capped the series with an 8-3 win in a Game 4 that was never in doubt, and now can look ahead to the fifth World Series in franchise history, and their first since 2000.
The party for Mets fans began early in this one: With two outs in the top of the first, Lucas Duda (who'd been just 3-for-24 in the playoffs) hit a three-run homer, and the next batter, Travis d'Arnaud, went deep as well. Before Mets starter Steven Matz had thrown his first pitch, his team already had a 4-0 lead. It was also at this point that TBS's cameras began finding some really, really sad Cubs fans:
The Mets would pile on some more in the second when Duda doubled in two more runs, giving him five RBI on the night and giving his team a 6-0 lead. The Cubs would score a run in the fourth to cut the lead to 6-1, but in the eighth, NLCS MVP Daniel Murphy added to his legend and put an exclamation point on the series by setting a big-league record with a homer in his sixth straight postseason game.
Mets fans have been through a lot since the team's last trip to the World Series — from the 2007 collapse to the Bernie Madoff Ponzi scheme to countless #LOLMets moments — but in this playoff run, and in this NLCS especially, their team has coolly marched on. It's been, for lack of a better term, so very un-Mets-like.
Steven Matz, the 24-year-old Long Island native who made just his eighth big-league start in Game 4, lasted only four and two-thirds, allowing a run and four hits. The Cubs loaded the bases against Matz in the fourth but pushed across just one run (thanks in part to a crucial catch by David Wright on a screaming line drive with the bases loaded). Then when Chicago threatened again in the fifth, Terry Collins continued to pull the right strings: He brought in Bartolo Colón to relieve Matz with two on and two out, and the veteran righty struck out Kris Bryant to end the inning.
Tyler Clippard allowed a two-run homer to Bryant shortly after Murphy's historic home run, but Jeurys Familia got the final three outs to close out the 8-3 win.
As for the Cubs, here's a clip of catcher David Ross throwing the ball out of play after what he thought was a third strike, but was actually just a second strike. It was that kind of night, and that kind of series, for Joe Maddon's team.
Game 4 wasn't totally perfect for the Mets: Yoenis Céspedes, the slugging outfielder whose acquisition sparked their playoff push, left the game early with what was described as left-shoulder soreness. But Céspedes (who'd played a round of golf earlier in the day) at least will have a few days to heal before the Mets play again. The World Series — the World freaking Series! — kicks off on Tuesday, in either Kansas City or Toronto.