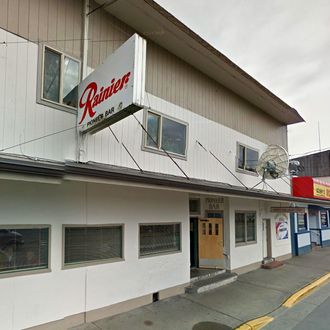 The Pioneer Bar in Sitka, Alaska, has held its last "slave auction."
For nearly three decades, the bar has commemorated the state's transfer from Russian control by hosting an event where locals can auction off two hours of their time for yard work or chores. The winning bids are donated to local charities.
But on Sunday morning, the Anchorage chapter of the NAACP demanded that organizers change the event's "inflammatory and insensitive" name, according to the Alaska Dispatch News. Initially, the event's organizer, bartender Rita Ledbetter, resisted the request. Ledbetter told the News that she'd never heard of the NAACP and that they should "stick their nose back in their own business and leave us alone." The "slave auction" was carried out as planned on Sunday night and netted $3,000 for the local volunteer fire department.
However, the News' report kicked up a storm of outrage online, and on Monday Ledbetter told the Associated Press that the event would be renamed the "Alaska Day Auction" going forward.
Ted Allio, the chairman of the Alaska Day Festival — which includes musical performances and folk dancing, among other non-slavery-invoking festivities — told the AP that the whole controversy had been blown out of proportion. Allio noted that in the 19th century, Russians had enslaved Sitka's native people, but "you don't hear them yelling" about the name. Lawrence SpottedBird, general manager of the Sitka Tribe of Alaska, did tell the AP that calling the event a slave auction "wasn't OK."
Ledbetter told the News that the auction wouldn't have even existed if Sitka hadn't been forced to get rid of its last big fund-raising event. "We had to get rid of the wet T-shirt contest," Ledbetter said. "Because of the insurance. And it got wild."