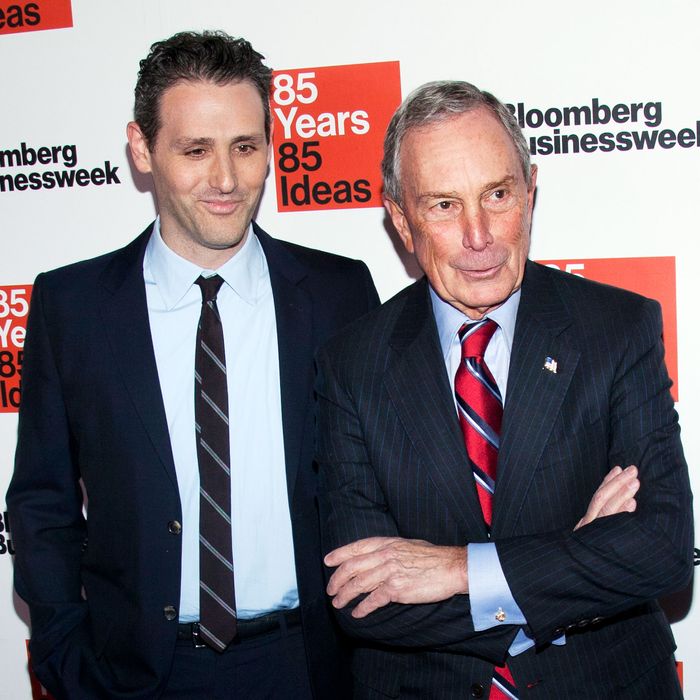 Josh Tyrangiel and Michael Bloomberg.
Photo: LAN/Corbis
This morning, Bloomberg Businessweek editor Josh Tyrangiel announced he was leaving the magazine after a six-year run in which he revived the 86-year old title with buzzy covers and a pop-culture sensibility. In his departure memo, Tyrangiel wrote, "There's no deeper explanation than that the time is right." But there is a deeper explanation: Mike Bloomberg. Tyrangiel is a casualty of the former mayor's mission to shrink his $35 billion media empire's ambitions, which once aimed at making Bloomberg News a consumer brand that would compete with outlets as diverse as the New York Times and Politico. Instead, since returning as CEO last September, Bloomberg has decided to focus on the core audience of terminal subscribers that generate $9 billion in subscription revenue. 
Inside the company, Tyrangiel's departure was not a surprise. "Expected for months," one Bloomberg source said. Nonetheless Tyrangiel's exit is significant because his rise and fall trace the contours of Bloomberg's evolving ambitions to be media mogul. Tyrangiel joined Bloomberg in 2009 with a mandate to reinvent Businessweek, which Bloomberg had bought from McGraw Hill for just $5 million. Tyrangiel got his start at Time, where he raced up the masthead from music critic to editor of time.com. For a while, it appeared at Bloomberg that Tyrangiel was on the same vertical trajectory. Along with Justin Smith, an ambitious digital media executive hired from The Atlantic, Tyrangiel was tasked with transforming Bloomberg into a consumer-focused media company. Together, they launched flashy websites on topics from luxury to politics. They also spent lavishly on talent. Last year, Tyrangiel recruited star political journalists Mark Halperin and John Heilemann to be the faces of the politics website and the hosts of a daily television show at salaries reportedly topping $1 million. It was a strategy that was backed by the then-CEO, Dan Doctoroff.
All this changed last September when Bloomberg shocked observers — and his own executives — by announcing he was replacing Doctoroff as CEO. Bloomberg quickly seized control and no detail was too small for his criticism, including the design of the bathroom-paper-towel dispensers. But it was the big picture that occupied his attentions. At the time, Bloomberg LP was emerging from a set of self-inflicted crises that had resulted from the competing interests of publishing adversarial journalism while selling $21,000 subscriptions to Wall Street and foreign governments. In the spring of 2013, the newsroom admitted its journalists had spied on Wall Street executives by monitoring their terminal use. That fall, the editors spiked an investigative story about the wealth of China's communist elite. And then there was an even bigger problem: competition. The month Mike Bloomberg returned as CEO, Goldman Sachs announced it was one of a dozen Wall Street firms investing in a "Bloomberg killer" data service called Symphony. 
Given these pressures, Bloomberg decided he had little interest in Tyrangiel's freewheeling media ventures. "Mike wanted to bring the company's focus to its core business," a Bloomberg adviser told me. In December 2014, Bloomberg hired former Economist editor John Micklethwait to replace his longtime news chief Matt Winkler. Over the past year, Micklethwait had stamped his vision on the newsroom. Last month, Bloomberg laid off nearly 100 journalists in New York and Washington. Micklethwait wants to laser in on straight business coverage — a strategy he call the chronicling of capitalism. "If you are not intrigued by how people make money, or are inclined to sneer at those who are good at it, or yearn to practice 'gotcha journalism' on investment bankers simply because they've chosen to be bankers, Bloomberg is probably the wrong place for you," Micklethwait wrote in a staff memo. 
Tyrangiel's replacement will be Ellen Pollock, whose been at Businessweek since 2007 and cut her teeth at The Wall Street Journal. Meanwhile, the surviving elements of Tyrangiel's strategy remain vulnerable, sources say. In July, Josh Topolsky, the editor who oversaw Bloomberg's websites, left after tussling with Bloomberg. In August, Bloomberg replaced his TV chief Claudia Milne with Al Mayers from the radio division. According to a Bloomberg adviser, the former mayor has said he doesn't want to renew Heilemann and Halperin's contract after the 2016 election. "Some days he thinks what they do is good and other days isn't," a Bloomberg adviser told me. "But ultimately it doesn't fit the mission of what he wants to do with the television network." 
A Bloomberg LP spokesperson declined to comment.