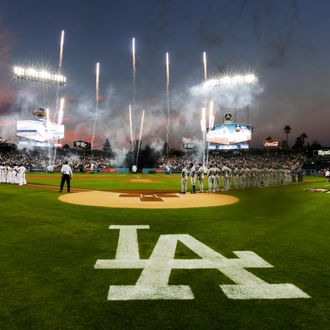 Photo: Gregory Bull/AP/Corbis
Following the Dodgers 3-1 loss in game one of the National League Division Series, a mother-and-son duo reportedly set upon a Mets fan in the parking lot of Dodger Stadium. The attack took place after the Mets fan got into some kind of verbal spat with the pair. One witness told the L.A. Times that the assault came amid a larger brawl. The son hit the victim "so hard he was just knocked out immediately," said Sean Gould, also a Mets fan. He added, "You heard his skull hitting the concrete."
The man, whose identity hasn't been released, struck his head on the ground during the attack, causing severe bleeding. Fortunately, less violent Dodgers fans gathered at the scene and applied that evening's "rally towels" to the gushing head wound.  The weapons, Los Angeles Police Charlie Beck said in a press conference, were hands and feet.
Police have been hesitant to say if the duo, or victim, were fans of a particular team, naturally, as this series is a couple of degrees above the "powder keg" classification. Video of the assault has been obtained by the LAPD, who announced that the woman appears to be in her 40s or 50s, and the son between 25 and 30.
A friend of the victim took to Twitter to say, "Embarrassed to be a Dodger fan as my Mets fan friend is in the hospital missing a piece of his skull after being hit by a lowlife." The tweet has since been taken down. 
The attack came prior to the most widely discussed attack of the series when Dodgers infielder Chase "Butt-ley" Utley broke the leg of Mets shortstop Ruben Tejada while sliding into second base. The play has not been taken lightly by fans. One Forbes writer suggested Utley would need a bodyguard or FBI protection for the Dodgers' recent visit to the city. Mainly, fans just stuck to psychological warfare with some acid signage. The play earned Utley a two-game suspension, although he will return in time for Thursday night's home game against the Mets. 
The LAPD has promised an intensified presence for game four, especially in the parking lot, which seems as safe as an alleyway at four in the morning. Friday's post-game attack recalls another parking-lot assault at the hands of Dodgers fans in 2011 when two men snuck up and brutally beat San Francisco Giants fan Brian Stow. Stow, who received life-threatening brain damage from the assault, required years of therapy to recover motor skills and his ability to walk. The two perpetrators ultimately pleaded guilty to assault, battery, and mayhem. Stow would go on to win an $18 million civil suit against the Dodgers for negligence in providing safe conditions in the parking lot.    
Gould, the L.A.-based Mets fan sounded frightened about the rancor Dodgers fans exhibited following the game-one loss, especially after the attack. "I've never seen anything like this," he told the Times.
For Mets fans braving Dodger Stadium for Thursday night's game, godspeed and watch your back.