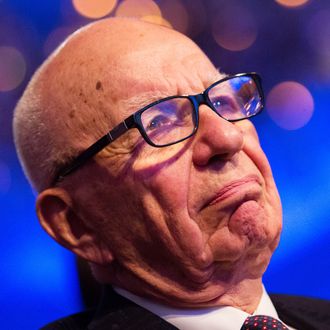 Rupert Murdoch.
Photo: Drew Angerer-Pool/Getty Images
We know Rupert Murdoch is no Donald Trump fan, and since his efforts to get Michael Bloomberg to enter the race have been unsuccessful, it seems he's settled on another candidate. Murdoch has paid Marco Rubio and Jeb Bush a compliment or two in recent weeks, but judging from his unsolicited political commentary on Twitter, he's most excited about Ben Carson:
In fact, in the past five days, Murdoch — who owns The Wall Street Journal, the New York Post, and Fox News Channel, among many other media properties — has exclusively tweeted about Dr. Carson:
Hold on, what?
Okay, uh, thanks for the shout out? But let's go back to that bit about Obama not being a "real black president" …