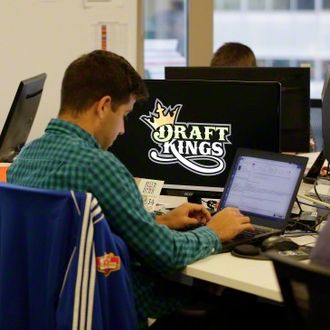 DraftKings employees at work on September 9, 2015.
Photo: Stephan Savoia/AP/Corbis
Less than 24 hours after it came to light that the FBI and the Justice Department were investigating whether daily fantasy sports sites violated federal regulations against online gambling, Nevada regulators have decided that daily fantasy constitutes gambling and must be regulated as such.
The ruling by the Nevada Gaming Commission means that daily-fantasy websites, including the billion-dollar-plus businesses DraftKings and FanDuel, must cease operations in the state until they and their employees obtain gambling licenses, the New York Times reported on Thursday.
These sites had been operating under a loophole in the Unlawful Internet Gambling Act of 2006, which banned online poker but classified fantasy sports as a game of skill and permitted it to continue — thanks in no small part to lobbying by the NFL. But as fantasy sports evolved into a big-money business, making most of that money on daily events as opposed to season-long competitions, lawmakers began to think twice.
These sites came under intense scrutiny earlier this month when DraftKings employee Ethan Haskell won $350,000 in one Sunday on the rival platform FanDuel, arousing suspicions that he had done so with inside information and prompting DraftKings to launch an internal investigation.
DraftKings executive Jon Aguiar, who the Times reported was under scrutiny for posting information on a public thread about how to play fantasy sports for money in states and countries where it is illegal, took to Twitter on Thursday to deny the allegations:
The argument that fantasy sports is a game of skill is not without merit; most players who actually make money at it are data junkies who use complex statistical models to put together their rosters. However, as Slate notes, the same is true of poker — those who understand the probabilities at play and bet accordingly win money from those who don't — so why one is a game of chance and the other of skill is a distinction without a difference.
In any case, it looks like Nevada has figured that out.