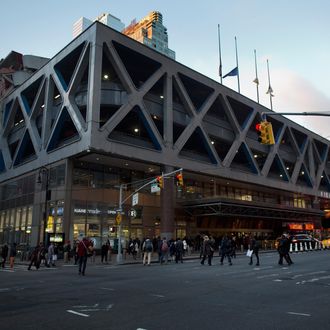 Photo: Victor J. Blue/Bloomberg via Getty Images
The Port Authority bus terminal is New York's least appealing transit hub — a disorganized, poorly lit, low-ceiling'd labyrinth that, yes, often smells like pee. But, as of Thursday, there's light at the end of that dank tunnel: Port Authority board members have signed off on a $10 billion plan to replace the 65-year-old structure at Eighth Avenue and 42nd Street with something more aesthetically pleasing and better-suited to handling 200,000 travelers a day.
NBC New York reports:
The plan approved Thursday includes an international design competition. The final design will be picked in September.

The plan is to build the new station between Ninth and 10th avenues, one block west of the current terminal. Officials plan to sell air rights at the current terminal and the resulting condos, commercial sales and rent will pay for about two-thirds of the $10 billion cost for the new building.
When will the project be completed? No one has said anything about that so far, but it shouldn't take any longer than the Second Avenue subway line.