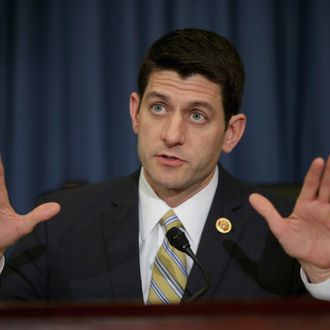 Just stop, you guys. Come on.
Photo: Chip Somodevilla/Getty Images
Twenty-four hours after House Majority Leader Kevin McCarthy announced he was dropping out of the race to replace John Boehner, the only thing that is clear is that the House Speaker position is perhaps the least desired job in Washington. 
Given that Boehner recently said of his job, "Garbage men get used to the smell of bad garbage," and once compared himself to a windup monkey he kept in his office — "That's what I do all day! … Every 15, 30 minutes, they come in and wind me up, and I do my thing" — can you blame people for running away from such an opportunity?
For anyone in Congress who needs ideas for how to avoid landing on a speculative House Speaker list, here are some pointers from those who have already fallen prey to this game of congressional "not it."
1. "It's not you. It's me."
Some representatives asked to entertain the idea of being Speaker have quickly tried to banish speculation by flashing their subpar résumés. "It's going to take the right fit, and I don't know if I'm the right fit or not," Georgia representative Lynn Westmoreland told the Atlanta Journal-Constitution. "What I said is, 'I'm not your person. I don't have the qualities that are necessary to be an effective leader," Benghazi Committee chair Trey Gowdy told The Hill. "I'm very content where I am.'" Kentucky representative Harold Rogers kept it simple: "I'm not the person for that job."
Even Kevin McCarthy used this sweet and simple option when he announced he was withdrawing his nomination: "I'm not the guy."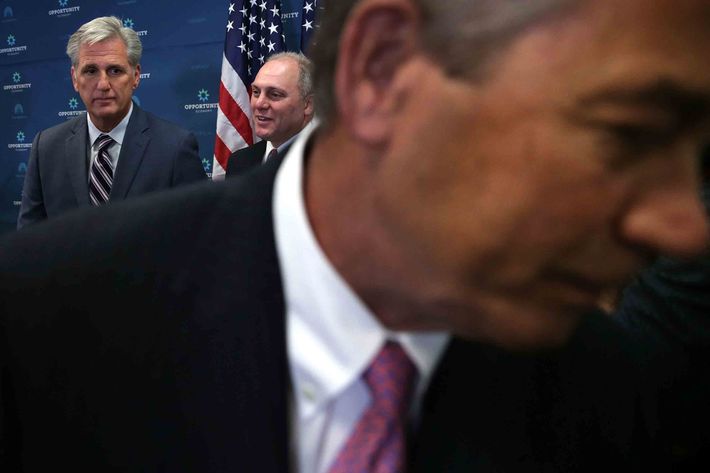 2. "Why don't you ask him instead?"
The logical follow-up to option No. 1, as people are sure to ask you for specific ideas if you keep insisting that there are better options to be Speaker than yourself. And right now a lot of people are pointing right at Representative Paul Ryan. 
Representative Tom Cole, who has been mentioned as a possible Speaker pick, has said so many nice things about Ryan in the past day. "I think eventually Paul Ryan will get into this thing, I really do," he told CNN.
Gowdy has also deflected Speaker buzz by talking about Ryan. He told the Washington Post a few days ago, "To me, just speaking as one member, the smartest kid in the class is Paul Ryan. If I had one draft choice and I was starting a new country, I would draft Paul to run it. Not because I agree with him on everything, but because he's super, super smart." When Representative Darrell Issa got asked on Morning Joe whether he could be Speaker, he replied, "I could be potentially a candidate. But at the same time, I agree with the vast majority of members, I think, that we need a Paul Ryan or somebody who is A. experienced, B. has been a committee chairman or something other than just up through the leadership ranks."
McCarthy, eager to have political obsessives talk about someone else now, told CNN, "Paul's looking at it but it's his decision. If he decides to do it, he'll be an amazing speaker but he's got to decide on his own."
3. "Sorry, I've got other plans."
"Let me check my schedule … hmmm, no, sorry, there is just no way that I can fit being House Speaker in this week" has also been a popular choice for those declining the third-most-powerful position in federal government. "It's not on my to-do list," Tennessee representative Marsha Blackburn told the Los Angeles Times. A staffer for Ohio representative Jim Jordan, head of the House Freedom Caucus, told a local paper in his district, "So you are aware, he is not planning to run for Speaker." He added that the congressman was "swamped" and would be unable to provide more details about his decision. Missouri representative Ann Wagner told the St. Louis Post-Dispatch, "Nooooo, no, no, no, no, not me. I have enough on my plate, with [the Financial Services committee], the NRCC, one of the four senior whips, wife and mother."
4. "Thanks, but no thanks."
If you don't manage to stave off the rumormongers completely, it will become necessary to repeat, Academy Awards–style, how much of an honor it is being mentioned as a possible candidate for the role until people leave you alone. Paul Ryan has been pushing this response hard. "While I am grateful for the encouragement I've received," he said yesterday, "I will not be a candidate."
5. "Don't blame me — blame my kids."
When gratitude didn't work, Ryan tried to appeal to the hearts of his fans by mentioning his kids. Last month, he told reporters, "This is a job where you are expected to be on the road about a hundred days a year. Our kids are 10, 12 and 13, and I'm not going to do that." 
"This is a job for an empty-nester," he added.
6. "I said no, leave me alone."
On Thursday, probably after being asked many times if he was going to run for a leadership position, Roll Call saw Gowdy "stomping into an elevator." He "uttered an emphatic, 'No!' when asked if he would run for speaker."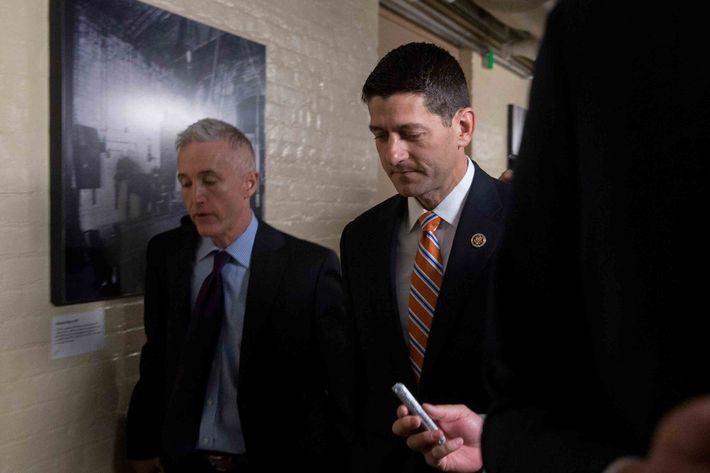 And no, he's not going to have a change of heart. "I stood up last night to tell the group that I'm not interested in a leadership position," Gowdy said last month. "That doesn't keep them from asking me, but I'm not. There's nothing they can say that is going to change my mind."
A few hours after he told everyone he had no interest in running, a bunch of reporters swarmed around Ryan asking him if he would be the next House Speaker. "I've got no news for you guys. I've got nothing to add right now. … This is not the time or place, guys."
The next day nothing had changed. He still just wants everyone to leave him alone.
7. "Uh, of course I don't want to be Speaker. This job sucks."
If all of the other options fail, the logic of this last resort is hard to question. When a potential nominee asks, "Why would anyone want this job right now, given that the ever-fracturing factions of the Republican Party make it impossible to get anything done and ensure that your colleagues and the country will have a burning hatred of you?" … there is no good answer. And as a result, just being blunt and noting that there's a reason Boehner couldn't stand being House Speaker any longer has been the most popular answer for those trying to deflect Speakerpalooza.
"I don't have a background in mental health, so I wouldn't have the right qualifications to lead right now," Gowdy said earlier this week. Texas representative Joe Barton noted, "It's a thankless task. It's a killer."
In case insinuating that the job slowly eats away at your life force was not harsh enough, Representative Mac Thornberry conjured the most damning insult a Texas conservative like him could muster: "I'd rather be a vegetarian."
John Boehner told the Columbus Dispatch that he is confident that the House will find someone to replace him. "They'll figure it out," he said. "Nobody in this town is that important that they can't be replaced." In the meantime, he said, his deputy chief of staff has gotten rid of his monkey. "She says, 'You don't have to be the monkey anymore.' And I say, 'Oh, you're right.'"