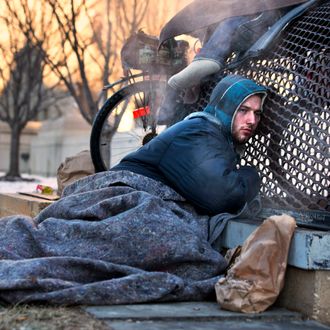 It's not all in the New York Post's head: Homelessness in New York is on the rise.
The New York Times reports that "57,448 people … were sleeping in shelters overseen by the Department of Homeless Services," which is not far behind December's record high of 59,068. Meanwhile:
In the most recent annual accounting by the homeless services agency, the length of stay in shelters rose. Single adults stayed an average of about 11 months, or 24 days longer than in the previous fiscal year. Families without children stayed an average of nearly 18 months, up 19 days, and families with children stayed an average of just over 14 months, up by three days.
There are also an estimated 3,000 New Yorkers living outdoors or on the subways.
The Times goes on to outline the many factors contributing to the problem, including the lingering effects of Bloomberg-era cuts to rent subsidies and trouble getting Mayor de Blasio's new rental-assistance program, Living in Communities (LINC), up and running. De Blasio has reportedly been focusing on homelessness since at least this summer, when, as DNAinfo reported last week, he began holding "Weekly Homeless Meetings" with administration officials even as he publicly denied that the number of New Yorkers without a permanent place to stay was on the rise. But with winter now on the way, the problem is becoming more urgent.