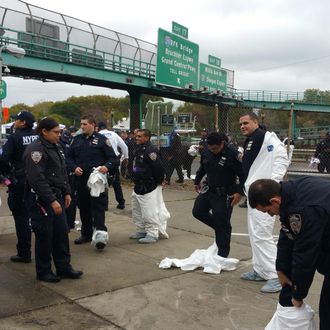 Photo: Verena Dobnik/AP/Corbis
Shortly after the early-morning retrieval of a semiautomatic Glock pistol from the bottom of the East River, a firing test confirmed the weapon was used in the shooting death of NYPD officer Randolph Holder last week. A test casing discharged from the gun matched the shell casing discovered at the scene of the shooting. NYPD divers first discovered the gun Monday morning after scouring sections of the East River's murky floor one square foot at a time. What was a five-day search for the weapon ended 20 feet under the choppy currents of the river. It was 40 feet from the shore where the alleged shooter tossed it while being chased by the police last week. 
The firearm will be the primary piece of evidence used against suspect Tyrone Howard, a prominent drug dealer in East Harlem who was charged with first-degree murder last week. Despite the fact that the gun was submerged in muddy river sediment for nearly a week, the NYPD were able to quickly confirm the weapon's role in the shooting.
Divers were forced to conduct the search in spurts, waiting for relative moments of calm in the current, or slack tides, before getting on their stomachs to trawl the riverbed by hand. The search involved hundreds of NYPD officers, many volunteering their time in the hunt. Efforts to intensify the land search for the weapon were under way as the diving effort, stretching out to Randalls Island, had yet to yield the murder weapon. At one point, FDR Drive was closed on Sunday to accommodate teams of officers checking roadside brush for the gun. 
Forensic teams are still searching for the bullet that struck Officer Holder. The shooting trajectory is being walked by officers in hazmat suits in an effort to turn up the round. A number of spent casings have been collected. A magazine with 13 rounds in it was found near the water shortly after officers initially arrived on scene.
The gun was likely used by Howard in a previous shooting on September 1 that left a rival dealer wounded. Now that the weapon has been recovered, investigators hope to figure out how it ended up in New York in the first place. Of the three weapons recovered in the most recent officer-related killings, all were smuggled in from southern states along the I-95 corridor.
This post has been updated throughout.