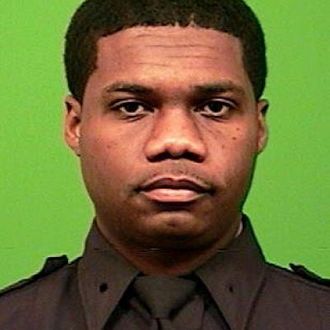 Randolph Holder.
Photo: NYPD
An NYPD housing officer died on Tuesday night when he was shot in the head while pursuing a suspect in East Harlem. Randolph Holder, 33, was a Guyanese immigrant who had served on the force since 2010. He was the fourth NYPD officer to be fatally shot since December. 
The suspected shooter, 30-year-old Tyrone Howard, is in custody. Authorities had already been searching for him for weeks because of another shooting that took place in East Harlem on September 1. 
Around 8:30 p.m. on Tuesday, Holder and his partners responded to a report of shots fired at a park near 105th Street and First Avenue, according to the New York Times. Two men were spotted running from the scene, and a witness said one of them had stolen his bicycle at gunpoint. When officers confronted Howard, who was riding a bicycle on a pedestrian path over FDR Drive at East 120th Street, he opened fire, hitting Holder in the head. The officer was taken to Harlem Hospital Center and pronounced dead at 10:22 p.m.
"Tonight, he did what every other officer in the NYPD does when the call comes — he ran toward danger," NYPD commissioner Bill Bratton said at a press conference. "It was the last time he will respond to that call." Holder is the fourth NYPD officer killed on the job in the last 11 months. 
Bratton said Howard was shot in the leg by Holder's partner and was apprehended after fleeing for several blocks. He was treated at New York-Presbyterian/Weill Cornell Medical Center and released to police custody in the morning. 
Howard had been arrested on drug charges and put into a drug diversion program last fall, according to the Times. In May, he fell off the radar. He has been arrested at least 20 times before, according to CBS New York, on charges including drug possession, assault, robbery, and public lewdness.
The September shooting that Howard was also wanted for was reportedly drug-related. Officers had been searching for him, talking to his friends and family and going by where he supposedly lived to try and track him down. "They were hunting him but obviously were unsuccessful," NYPD chief of department James O'Neill said on Wednesday. A NYPD spokesperson added to the Times, "He's considered a very major drug dealer in the East River Houses."
"If ever there's a candidate not to have been diverted, it's this guy," Bratton said in an afternoon press conference. Bratton had originally planned on attending an event in D.C. with dozens of other law-enforcement officials to announce plans to shrink America's large prison populations. 
"He's a poster boy for not being diverted." Mayor Bill de Blasio called him a "hardened, violent criminal who should not have been on the streets."
"When you look at the offenses this individual committed, they were consistently violent," de Blasio said. "I don't know the details of how his case was handled by the judge. But I do know someone like this shouldn't have been on the streets."
Holder's father spoke to the dozens of police officers who gathered at the hospital to keep vigil. Both he and Holder's grandfather served as police officers in Guyana. De Blasio described Holder as "an immigrant who wanted to give back to his city and his country, who had an exemplary record as a police officer," adding, "This sadness is so hard to describe." Holder had a 16-year-old daughter. The officers at the scene saluted as the ambulance transporting Holder's body left the hospital.
De Blasio ordered all flags at city buildings to be flown at half-mast until Holder's funeral; Governor Andrew Cuomo has ordered the same for all flags at state buildings. 
This post has been updated throughout.