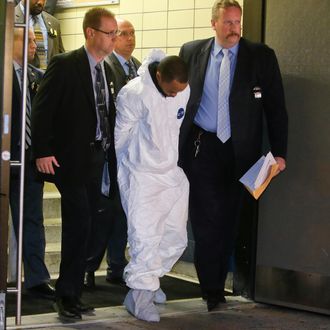 Suspect in the murder of NYPD officer Randolph Holder leaves the 25th Precinct Wednesday night.
Photo: Frank Franklin II/AP/Corbis
The 30-year-old man accused of gunning down NYPD officer Randolph Holder Tuesday night has been charged with first-degree murder and robbery. Tyrone Howard did not enter a plea and is being held without bail. The scene during his arraignment was tense and raw Wednesday night. Family members of the slain officer cried openly as the cuffed suspect was brought into court, and nearly 100 officers packed the courtroom in solidarity for their fallen colleague. As Howard, slouching because of an apparent chest pain, got set to face the judge, one cop apparently screamed out, "I hope you burn in hell." 
Howard is accused of fatally shooting NYPD officer Randolph Holder after Howard fled from another shooting close to a public-housing complex in East Harlem. Howard allegedly stole a bike at gunpoint and was racing north, where Holder had been patrolling with his partner. The cops and Howard were closing in on each other, and when they met, Howard took out the gun and sent one bullet into Holder's forehead. 
Holder's partner, Officer Omar Wallace, fired back as Howard tried to get away, reports the Times, wounding the suspect in the leg. Howard made it a few blocks before he was arrested, and managed to toss his gun into the East River, though officers later recovered a .40-caliber magazine.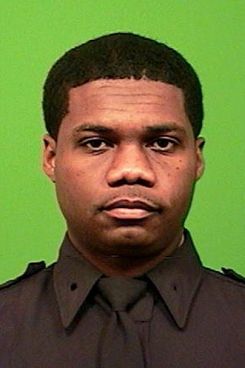 Howard is due back in court for a grand-jury hearing next week, though Howard's attorney did not say whether he would testify.
New details also emerged about Howard's deep criminal past. Howard had been arrested almost two dozen times as an adult; his first run-in with the law came at age 13. Howard had also been on the run since September 1, wanted for a separate shooting where he allegedly approached a 28-year-old member of his own gang crew, the East Army, but whom Howard considered a threat. Howard fired on this reputed rival three times, but the man managed to survive. Authorities believe the Tuesday shooting that preceded Holder's death stemmed from that September 1 beef. 
Cops had also been actively searching for Howard since then — at least ten times they set out to arrest him, reports the Times, but failed to do so.
Howard had been known to the officers who patrolled the area for stirring up violence in the East River Houses, where he also lived, and the surrounding neighborhood. Howard also sowed a different kind of chaos through his heavy involvement in the drug trade. As a result, Howard was swept up, along with 18 other reputed drug dealers, in a sting in October of last year, but his case was diverted to a special drug-treatment court. At the time, the Manhattan DA's office had recommended a sentence of seven years in prison, but Supreme Court Judge Edward McLaughlin saw his history of drug abuse — as well as reports that indicated both his parents had been heavy PCP users — and sought treatment for Howard instead of jail time. 
Howard, at the time of his drug hearings, had no violent crimes on his record, a justification the judge used for seeking an alternative to incarceration. However, according to the Times, there was one — but it was sealed after prosecutors failed to charge him. The case involved a June 2009 shooting on a basketball court in the East River Houses that injured an 11-year-old boy and a 77-year-old man. Howard was the prime suspect, but the DA's office couldn't find any witnesses to identify Howard at the scene, so the case against him was dropped.
Judge McLaughlin said, based on what he saw, Howard hadn't been a violent offender. He defended his decision, saying he thought Howard qualified for the program "because nothing else has worked."
Police Commissioner Bratton, who was supposed to head to D.C. to join law-enforcement officials to push for criminal-justice reform, admitted that officials were still trying to find a balance, as Howard clearly slipped through the cracks. "It's unfortunate that there are people in our city and our society that, despite our best efforts, that are going to be criminals and many of them are violent criminals and we need to separate them from the rest of us," Bratton said at a press conference Wednesday. "And this individual I think is one of those."
Mayor Bill de Blasio also condemned the mishandling of Howard's crimes. "He's a poster boy for not being diverted, " he said, adding that he was a "hardened, violent criminal who should not have been on the streets."
Howard did attend the diversion program as required, but he stopped showing up for court sometime in August. A warrant went out for his arrest more than a month ago.
Yet as Howard's past is picked apart, people are mourning the death of Randolph Holder — the fourth police officer killed in the line of duty in about 11 months. Friends and family said he had expressed his nervousness about his beat area, telling them tension and violence was on the rise. "It was something that he loved to do," his aunt told the Times about his job as a police officer. "But recently he was saying that the area in which he worked was a very dangerous area, where everybody owns a gun. And he felt like his life is threatened." Seven people have been killed in the East River Houses this year, almost double the number of murders from last year. 
The 33-year-old Holder, who had plans to become a detective and had won six commendations, had been on the force since 2010. He came to the United States from Guyana more than ten years ago, where his father and great-uncle had been police officers. His grew up in Lodge, a suburb of Georgetown, the capital of Guyana. He has a 16-year-old daughter who still lives there.
A makeshift memorial sprang up near the sight where Officer Holder was shot down. Cops and community members held vigil Wednesday night, lighting candles and then marching together — officers and residents — to police headquarters, where another memorial is also filled with flowers and candles. 
Flags are flying at half-mast throughout the city and the state in honor of the slain officer, and will remain so until Officer Holder's funeral Wednesday at Community Church of the Nazarene in Far Rockaway, Queens. He will be buried in Guyana.