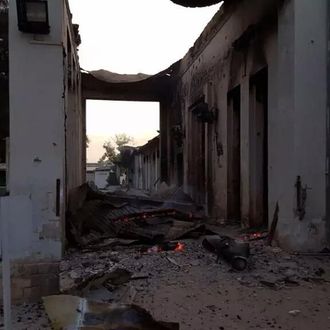 Photo: Médecins Sans Frontières/Twitter
President Obama apologized to Doctors Without Borders director Dr. Joanne Liu for the American military's bombing of the aid organization's Kunduz field hospital in Afghanistan on October 3. In a brief phone call Wednesday afternoon, the president offered his condolences and an assurance that U.S. forces will take every measure possible to prevent similar future tragedies. The attack took the lives of 12 doctors, ten patients, and three children. 
The apology comes after Dr. Liu forcefully denounced the strike earlier Wednesday. She has requested that an independent body commission, the International Humanitarian Fact-Finding Commission, established under the Geneva Convention, investigate the airstrike. "Even war has rules," Dr. Liu announced. "This was not just an attack on our hospital—it was an attack on the Geneva Conventions." 
In a press conference Monday, White House press secretary Josh Earnest described the attack as a "profound tragedy" but demurred on the matter of U.S. culpability.
On Tuesday, the Times reported that the American commander in Afghanistan, General John F. Campbell, was said to believe that troops "probably did not follow their own rules in calling in the airstrike."