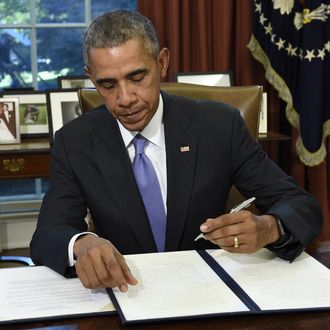 Nope.
Photo: Susan Walsh/AP/Corbis
On Thursday afternoon, President Obama issued the fifth veto of his entire presidency. The nixed bill in question dealt with defense policy — Obama and congressional Democrats didn't like it because it would fund the military through a budget-cap-avoiding workaround and make it harder for the president to close Guantanamo, where 114 prisoners remain — before his term is up. Defense secretary Ash Carter wrote an op-ed earlier this week condemning the current legislation for preserving many of the sequestration budget cuts, begging Congress to pass something that focused a bit more on the long term. The Obama administration wants Congress to raise spending limits for defense and non-defense spending, so this veto is just a preview of what will happen when Congress has to figure out how to fund the whole government. 
Obama held a veto ceremony and sent a message back to Congress. "This bill instead resorts to gimmicks that do not allow the Pentagon to do what it needs to do. … Let's do this right." Congress has until December 11 to mastermind a budget.
Republicans knew the veto was coming — Obama promised to do it — and thus had plenty of time to prepare their incensed statements. "The president has vowed to veto it. Why? Because he wants to stop and spend more money on his domestic agenda," House Speaker John Boehner said on Wednesday. "It's time to put our troops first, time to stop playing political games." Senator John McCain and Representative Mac Thornberry — chairs of the Senate and House Armed Services Committee — released a statement that called the veto "not only unprecedented, but it is reckless, cynical, and downright dangerous. Never before has an American president used the bill that provides pay and support to our troops and their families as political leverage for his domestic agenda."
USA Today points out that Ronald Reagan, Jimmy Carter, George W. Bush, and Bill Clinton all vetoed annual defense budgets. 
House Republicans will try to override the veto on November 5 — however, the legislation has enough Democratic detractors that Congress will probably have to start all over again on a new bill.
Obama has issued fewer vetoes than any president since James Garfield, who was only president for a few months.