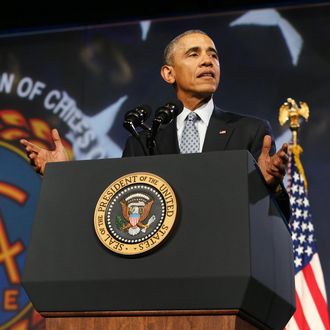 Photo: Antonio Perez/TNS via ZUMA Wire
President Obama addressed the International Association of Chiefs of Police in Chicago today. His speech to the gathering of law enforcement's top brass, NYPD Commissioner Bratton among them, sought to portray his justice-reform policies as measures to protect and ease the daily lives of beat cops on the street.
Obama cited recent reports on racial bias in policing while at the same time acknowledging, "Too often, law enforcement gets scapegoated for the broader failures of our society and criminal justice system." Many in law enforcement feel under siege these days — or at the very least not given the benefit of the doubt — by the Black Lives Matter movement and video monitoring by civilians.
He firmly called on the need for increased gun control. The recent shooting death of Officer Holder was held up as reason to reduce access to handguns and assault weapons while prodding gun-rights supporters. "Fewer gun-safety laws don't mean more freedom, they mean more fallen officers," Obama said. "They mean more grieving families, and more Americans terrified that they or their loved ones could be next."
The president repeatedly sought to place himself between the stark new lines drawn up by a vigilant population armed with smartphone cameras, acutely aware of police misconduct and police supporters. "It's important not to pounce and jump on anything that happens. We have to resist the false trap that either there should be no accountability for police or every police is suspect no matter what they do," said Obama. As protesters and activists gathered outside of the police-filled auditorium in McCormick Place, these three words offered by Obama spoke most directly to a reality both groups can readily attest to: "Violence is real."