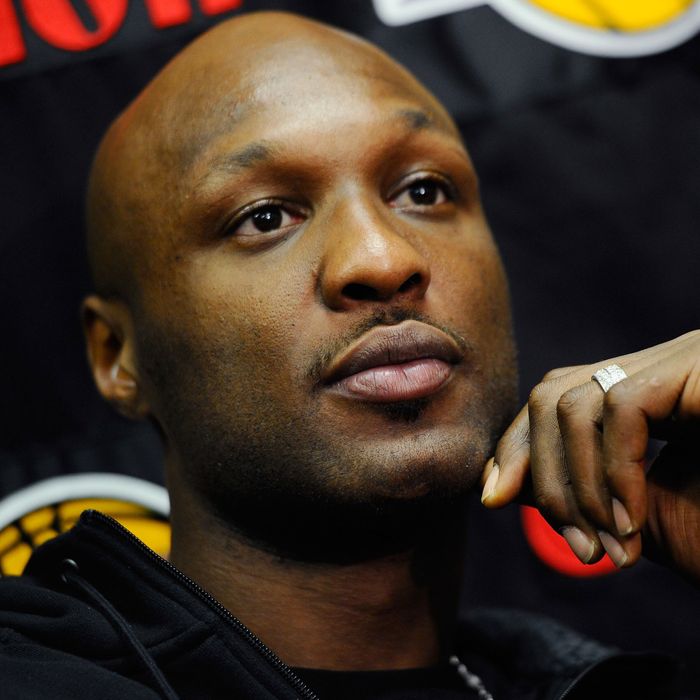 Lamar Odom
Photo: Kevork Djansezian/Getty Images
Former NBA star Lamar Odom suffered brain damage and at least one stroke after passing out during a days-long drug-fueled stay at a Nevada brothel, according to sources who spoke with E!. The sources said Odom is not brain-dead but remains on life support.
The 35-year-old Odom had been using cocaine Saturday, when he checked into the Love Ranch in Crystal, Nevada, but investigators have yet to determine whether he was still using the drug in the hours before his hospitalization Tuesday, Nye County sheriff Sharon Wehrly told reporters. Odom's 14-year NBA career was cut short by recurring problems with the drug.
Both Wehrly and the brothel's proprietor, Dennis Hof, confirmed that Odom took as many as ten tabs of "sexual performance enhancer supplements" during his stay at the Love Ranch — including an "herbal" Viagra substitute that the FDA considers dangerous.
Two years ago the FDA found that "Reload" wasn't actually an herbal substitute for Viagra, but rather an unregulated, generic version of the erectile-dysfunction remedy.
"FDA laboratory analysis confirmed that 'Reload' contains sildenafil, the active ingredient in the FDA-approved prescription drug Viagra, used to treat erectile dysfunction (ED)," the administration wrote in a 2013 warning. "This undeclared ingredient may interact with nitrates found in some prescription drugs such as nitroglycerin and may lower blood pressure to dangerous levels."
Odom was well liked in the basketball world, where he was considered one of its funniest players. He won two NBA titles with the Lakers in 2009 and 2010, and won the Sixth Man of the Year Award in 2011.
But among non-sports fans, Odom is best known for his marriage to Khloé Kardashian, which made him an occasional presence on the family's hit reality series and then the star of a spinoff centered on the marriage, titled Khloé and Lamar. Kardashian had reportedly filed for divorce from Odom in 2013, but in examining Los Angeles court records, NBC News found that the divorce agreement was filed only three months ago but hasn't been processed yet. That bureaucratic delay could give Kardashian the authority to make decisions about Odom's medical care and end-of-life directive.
Odom's life has been shadowed by loss and drug addiction from an early age. By the time he was 12 years old his mother had died from colon cancer and his estranged father had become addicted to heroin. Later in life, Odom lost his 6-month-old child. This past summer, two of his close friends died in drug-related incidents, according to NBC News.

Former Lakers star Earvin "Magic" Johnson and Miami Heat guard Dwyane Wade were among the many NBA players who expressed their love of Odom and grief over his current condition via Twitter.