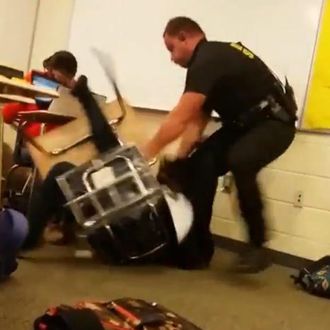 Two days after he violently flipped a high-school student onto the floor of a South Carolina classroom, Richland County senior deputy Ben Fields will be relieved of duty, NBC News reports.
Richland County sheriff Leon Lott is expected to announce the firing at a news conference set for noon, in which he will also discuss the status of his department's internal investigation into the incident.
On Monday, a female African-American student reportedly refused to leave her math class at Spring Valley High School in Columbia, South Carolina, after failing to participate. Fields, one of the school's two security officers, was summoned to escort the student out of the classroom. In a video of the ensuing confrontation, Fields flips her (and her desk) onto the ground, then drags her out of the overturned desk, tosses her across the room, then jumps on top of her while instructing her to put her hands behind her back.
The video was the latest in a depressingly extensive collection of films depicting violent encounters between white police officers and black teens. While local police have dismissed the significance of race in the confrontation, the Justice Department has opened a civil-rights inquiry into the incident.