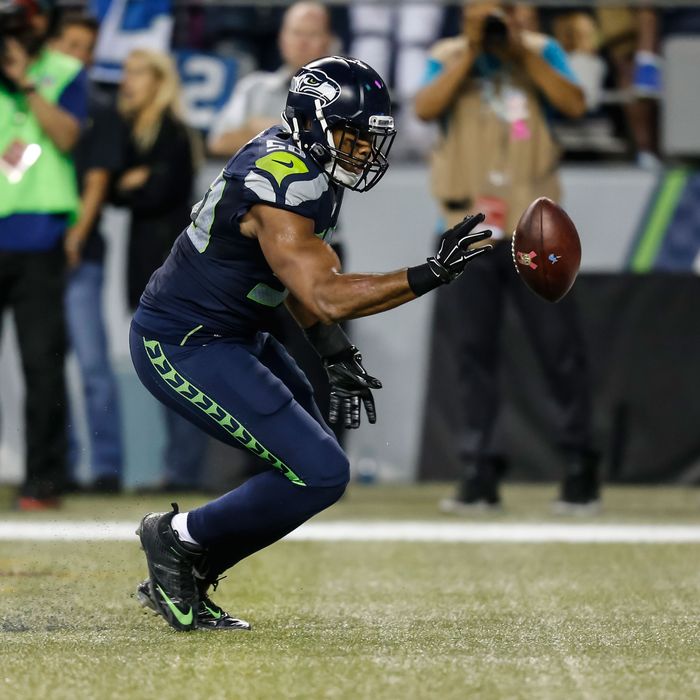 K.J. Wright, illegally batting the ball out of the end zone.
Photo: Stephen Brashear/Getty Images
Late in last night's Monday Night Football game, Lions wide receiver Calvin Johnson lunged for a touchdown that would have given his team a 16–10 lead. Just short of the goal line, Seahawks safety Kam Chancellor punched the ball out of Johnson's hands and it bounced into the end zone. But then Seahawks linebacker K.J. Wright batted the ball out of the back of the end zone — an illegal play, which should have resulted in a penalty and the Lions getting the ball back at the spot of the fumble. But that's not what happened: No flags were thrown, and the play was ruled a touchback, with Seattle getting the ball back at their own 20-yard line. Seattle would hang on to win the game.
Here's the controversial part of the play:
After the game, NFL vice-president of officiating Dean Blandino admitted the officials blew the call:
"We'll review all the angles," Blandino said on Monday Night Football. "On TV it looked like the Seahawks player intentionally hit the ball. That is a foul. The result of the penalty would give Detroit possession enforced at the spot of the fumble. With half the distance to the goal line, Detroit would have had a first down."

"I have spoken to the referee (Tony Corrente). He did not see that part of the play because that is not his area. The back judge (Greg Wilson) felt it was not an intentional act, that it was inadvertent," he added.
Whether the bat was intentional isn't really in dispute this morning, because Wright admitted that it was. And he did so without hesitation because he didn't know it was illegal: "As soon as Calvin went down, I saw the ball bouncing, bouncing, bouncing and I was running so I just tried to knock it out," Wright said after the game. "I wanted to just knock it out out of bounds and not try to catch it and fumble it," he continued. "I just tried to make a good play for my team."
Here's the rule in question:
Like most people in the Seahawks locker room, though, Wright didn't realize anything controversial had happened until reporters started asking him about it. Via SB Nation:
It's pretty clear that the back judge screwed up, but some made the argument afterward that the league's complex rule book is part of the problem:
But Johnson, who fumbled before Wright batted the ball, didn't blame the official or the rule book: "It's unfortunate, but you can't put the game in the referee's hands."