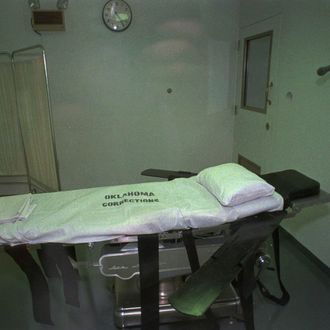 The execution chamber at Oklahoma State Penitentiary in McAlester, Oklahoma in 1996.
Photo: Jerry Laizure/AP
A day after Oklahoma governor Mary Fallin granted a last-minute stay of execution to death-row prisoner Richard Glossip due to concerns that an unapproved drug was to be used in his lethal injection, the state's attorney general has asked for an indefinite stay of all scheduled executions in the state while his office investigates the error.
The petition Scott Pruitt filed with the Oklahoma Court of Criminal Appeals on Thursday asks that Glossip's execution, as well as those of Benjamin Cole and John Grant, "be stayed indefinitely" until Pruitt's office can ensure that the state's execution protocol is followed correctly.
In Glossip's case, an indefinite stay is welcome but insufficient, according to his supporters, who say abundant evidence suggests he is innocent. Glossip was sentenced to death for the 1997 murder of his boss, Barry Van Treese, on the testimony of his fellow employee Justin Sneed, who admitted to carrying out the murder, but claimed that Glossip had pressured him into doing it, quite possibly as part of a bargain to avoid the death penalty for himself (Sneed is serving a life sentence without parole). No physical evidence ties Glossip to the murder and Sneed's testimony is highly suspicious.
In the end, Fallin stayed Glossip's execution not because she had any doubts about his guilt, but rather because the supplier of the lethal drugs that were to end his life had provided the prison with potassium acetate rather than potassium chloride, which the state's execution protocol specifies.
"Not until shortly before the scheduled execution did the Department of Corrections notify my office that it did not obtain the necessary drugs to carry out the execution in accordance with the protocol," Pruitt said in a statement. "Until my office knows more about these circumstances and gains confidence that DOC can carry out executions in accordance with the execution protocol, I am asking the Oklahoma Court of Criminal Appeals to issue an indefinite stay of all scheduled executions."
Oklahoma's lethal-injection drug protocol has come under intense scrutiny since the botched execution of Clayton Lockett last year. Lockett was seen writhing in pain on the gurney and took nearly 45 minutes to die.