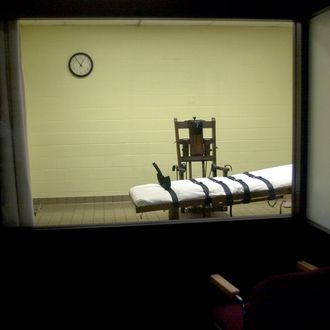 Photo: Mike Simons/Getty Images
When Oklahoma executed convicted murderer Charles Warner last January, it took 18 minutes for officials to pronounce him dead. "My body is on fire," he said from the gurney. "No one should go through this. I'm not afraid to die. We's all going to die." 
A new report from The Oklahoman shows that corrections officials seem to have used the wrong drug during the execution — potassium acetate instead of potassium chloride, the final drug in the state's lethal-injection cocktail, designed to stop the heart — according to Warner's autopsy report.
Warner was scheduled to be executed the same night as Clayton Lockett — who writhed and moaned for 40 minutes in April 2014 before he was pronounced dead. His IV had been placed incorrectly. Oklahoma hasn't had another execution since January; Richard Glossip was scheduled for execution last month, but his death was delayed by Governor Mary Fallin after authorities realized that potassium acetate had once again been delivered instead of the correct drug. Fallin told The Oklahoman that she was unaware of the possible mix-up in Warner's case until last month. The state's drug provider reportedly said the drugs could be used interchangeably; the Death Penalty Information Center says the drug had never been used in an execution before.
The Supreme Court upheld lethal injection as used in Oklahoma in June; Justices Stephen Breyer and Ruth Bader Ginsburg wrote a dissent noting that maybe it was time to reconsider the death penalty altogether. "The Eighth Amendment forbids punishments that are cruel and unusual," Breyer wrote. "Last year, in 2014, only seven States carried out an execution. Perhaps more importantly, in the last two decades, the imposition and implementation of the death penalty have increasingly become unusual."
States that do have the death penalty have found it difficult to carry out executions because it is so hard to find the necessary drugs, as Oklahoma's continuing problems show. Many drug companies are reticent to be linked to capital punishment, and other countries that once exported these drugs will no longer give them to the U.S.