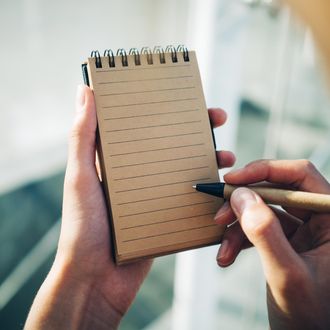 P.S. Please don't arrest me.
Photo: Sfio Cracho/Corbis
Last Sunday, two Floridians visited an art gallery and left with $6,000-worth of jewelry that they pilfered from an artist's desk. The police officer arrived at the scene to learn that several strange entries had been left in the gallery's guestbook. One of the entries included the email address "wedidnttakeit@gmail.com"; another featured a drawing of a penis and a face labeled "Meg." A phone number of someone named Meg was also left behind. The authorities later found Megan O'Hara and David Ziskoski at a supermarket nearby; the pair quickly admitted that they took the jewelry — and that they definitely wouldn't have done so if they knew it was so expensive. 
It is perhaps not shocking to learn that O'Hara and Ziskoski are not the only people to have been quickly apprehended by the police after leaving behind a note.
Here is a brief glimpse of the many free clues found by the authorities in the past few years.
October 2015: A woman in Minnesota was arrested for leaving anonymous messages in her neighbors' mail. They included things like "The children look delicious. May I have a taste?" and unsolicited magazine subscriptions addressed to "tasty children." The police eventually tracked down the suspect, who said, according to police, that "she was angry because the kids were leaving things in her yard and I think being a little noisy, being kids, the way kids are."
August 2015: A thief stole a car belonging to an Everett, Washington, man whose father's ashes were in the car, but dropped off the ashes at a local cemetery with a note explaining what the urn contained, in case anyone was confused about why an urn was at a cemetery. The thief kept the car.
July 2015: An Indiana man woke up to find his car was missing. A day later, he found his keys in his mailbox and a note that explained where he might find his car — and an apology for the damage. The police tracked down the suspects, who ended up being guilt-wracked teenagers who wanted to take a joy ride. 
May 2015: After a thief stole a birdbath from an elderly British woman — who was devastated that someone took away a gift given to her by her late husband — they later returned to leave an apology note on a piece of cardboard. It was a long one. "I am so very sorry," it began. "I wouldn't in a million years have done this but I had to. It is my mother's birthday and I am in a very bad place. I can't afford a birthday present and she doesn't know how bad it is. With deep regrets, sorry. This is all I can think of I am so very sorry. When I can afford it I will replace it." The apology wasn't good enough for the thief's victim. "We were married for 53 years," she told the BBC. "A new bird bath won't ever replace it."
April 2015: A Boston couple planned to donate 11 pairs of sneakers to Boston Marathon bombing survivors; instead, a thief took them from their car — which may have been unlocked — leaving behind a note that read, "2U from Me."
June 2014: Authorities in Sacramento, California, found a note in a stolen car that had recently been recovered. It read, "I'm sorry for stealing your car." An officer who tweeted a picture of the note, saying it restored his "faith in humanity," was investigated for revealing evidence.
May 2014: A man in San Jose, California, left his ten-week-old beagle puppy in his car. He returned 20 minutes later to find a note, but no puppy. "Water your dog, or leave at home," it read.
August 2013: Thieves in San Bernardino, California, returned six computers and a laptop after learning they belonged to a nonprofit rape crisis center. "We had no idea what we were takeing. Here your stuff back we hope that you guys can continue to make a difference in peoples live. God Bless."
July 2013: A Canadian thief stole a GPS unit from someone's car and left behind a note that said, "next time lock your car."
December 2010: A thief in Athens, Georgia, left two identical notes on two beds. Both were written on white cards with a yellow marker. They read, "thank you merry christmas."