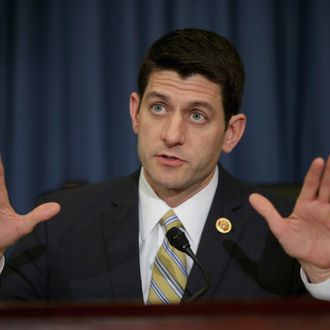 Paul Ryan says take it or leave it… Wait, don't leave!
Photo: Chip Somodevilla/Getty Images
Paul Ryan originally announced he would accept the House Speakership only under certain conditions from which he would not budge. He would have weekends with his family, the House Freedom Caucus had to endorse him in advance, and it couldn't threaten him with constant coups to force him to go along with their crazy schemes. First the House Freedom Caucus voted, and most of its members liked Ryan, but the organization wouldn't formally endorse Ryan. Ryan decided that was close enough. Now the part about stopping all of the coup threats is up for negotiation, too:
The Wisconsin Republican, now the presumptive next speaker of the House, delivered the message to Ohio Rep. Jim Jordan, the chairman of the Freedom Caucus, according to multiple sources familiar with the discussion. Possible changes to the so-called "motion to vacate" will now come as part of a larger discussion of reworking internal party and House rules. Should he become House speaker, Ryan will set a deadline by which the House Republican Conference will change chamber and party rules.
So this is going well. Now the Freedom Caucus just needs to iron out the weekend-family-time issue.
Ryan: "And I get to see my kids on weekends."
Freedom Caucus: "Just Christmas."
Ryan: "Deal."
Freedom Caucus: "Unless we're ransoming the debt ceiling on Christmas."