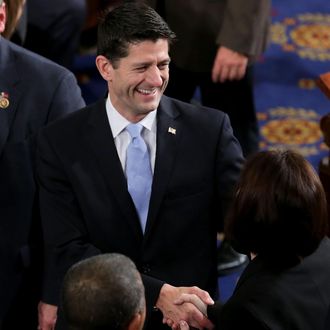 Photo: Chip Somodevilla/Getty Images
The House of Representatives officially elected Paul Ryan — who would now like to be known by the far-more-impressive-sounding name Paul D. Ryan — House Speaker. 
He already has a fancy new Twitter handle to match the new job title. 
His only opponent — conservative favorite Representative Daniel Webster — told his fans to not vote for him this morning, in an effort to make sure Ryan got the requisite 218 votes. Ryan got 236 votes; Nancy Pelosi got 184, and Colin Powell and John Lewis each got a single vote. 
"I nev­er thought I'd be Speak­er, but early in my life I wanted to serve this House. I thought this place was ex­hil­ar­at­ing be­cause here you can make a dif­fer­ence," he said in his first speech after being elected. "But let's be frank. The House is broken. Were not solv­ing prob­lems, we are adding to them. But I'm not in­ter­ested in lay­ing blame. We're not set­tling scores. We are wip­ing the slate clean."
Although there is a new Speaker, the rest of the dynamics that have shaped congressional politics for the past few years remain the same — if Ryan is lucky, he's wiped maybe 4 percent of the slate clean. Getting House Republicans to agree on things is not really any easier than it was yesterday. 
Mitt Romney — who picked Ryan to be his running mate in 2012 — was in the House chamber today for his friend's big day, along with Ann Romney.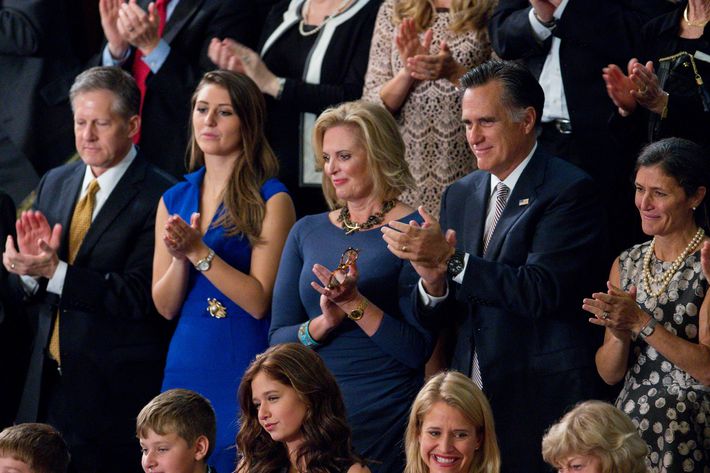 However, if 45-year-old Ryan, the youngest House Speaker since 1869, ever wanted to follow in Romney's footsteps and run for president — a path he denied being interested in as much as he pish-poshed wanting to be Speaker — that just got a lot harder. The last House Speaker to become president was James Polk. "I think he recognizes that," John Boehner, who gets to finally retire now, told reporters this week. 
Ryan will now have the chance to be the face of Republicans in Congress, along with Senate Majority Leader Mitch McConnell; only 24 percent of Americans approve of Republicans in Congress, according to a recent ABC News/Washington Post poll. Thirty percent of Republicans have a favorable opinion of McConnell, according to the latest Gallup numbers.