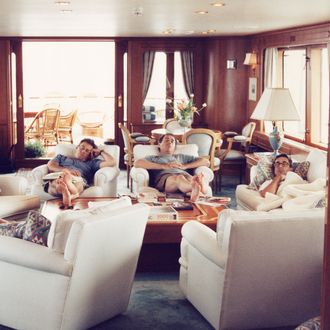 From left: Barry Diller, Calvin Klein, David Geffen, and Sandy Gallin.
Photo: Kelly Klein
When she made this photograph in 1981, Kelly Rector was with her not-yet-husband Calvin Klein aboard the chartered yacht Midnight Saga. (The image appears in her new Rizzoli book, Photographs by Kelly Klein.) "It was a holiday — either Christmas or New Year's — in Mustique," she recalls. "Siesta time, after lunch. I just happened to be walking through — I carried my camera all the time, every day, on vacation, on the street. It was just a moment: I didn't think anything of it at the time."
From left:
Barry Diller
Then chairman of Paramount Pictures, coming off a monster year that included Raiders of the Lost Ark and Reds.
Calvin Klein
Had just aired the most unforgettable TV commercial in the history of fashion: Brooke Shields, in perfectly fitted denim, cooing, "You want to know what comes between me and my Calvins? Nothing." The underwear business lay just ahead.
David Geffen
Had, the previous year, started Geffen Records, signing two huge artists: Donna Summer, at the height of her "Bad Girls" disco fame, and John Lennon, just before his comeback and subsequent assassination.
Sandy Gallin
Already the manager of Dolly Parton, Cher, and Richard Pryor, he was a few years away from signing the biggest pop star on Earth: Michael Jackson.
*This article appears in the October 5, 2015 issue of New York Magazine.