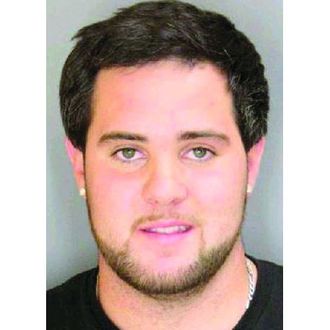 Indiana Z. Jones.
Photo: Yates County Police Department
Late on Sunday night, Indiana Jones was captured by the authorities after a high-speed car chase in the Finger Lakes region. Indiana Jones is a 21-year-old whose middle initial is a Z. He did not appear to be evading the police because he was in a hurry to save antiquities; the chase began after Jones failed to stop during a traffic stop, and ended when officers disabled his tires after failing to stop the suspect, who reached speeds over 100 mph. 
The only thing about this car chase that was remotely cinematic was the fact that it began in a town called Rushville. 
According to the Finger Lakes Times, Jones faces a laundry list of charges: "unlawfully fleeing a police officer, obstructing governmental administration, reckless operation, speeding, speed not reasonable and prudent, failure to comply with a lawful order, failure to keep right, moving from lane unsafely, driving an uninspected and unregistered vehicles, improper license plates, driving without insurance and multiple vehicular equipment infractions." 
Jones has not said whether he planned to stage a sequel.