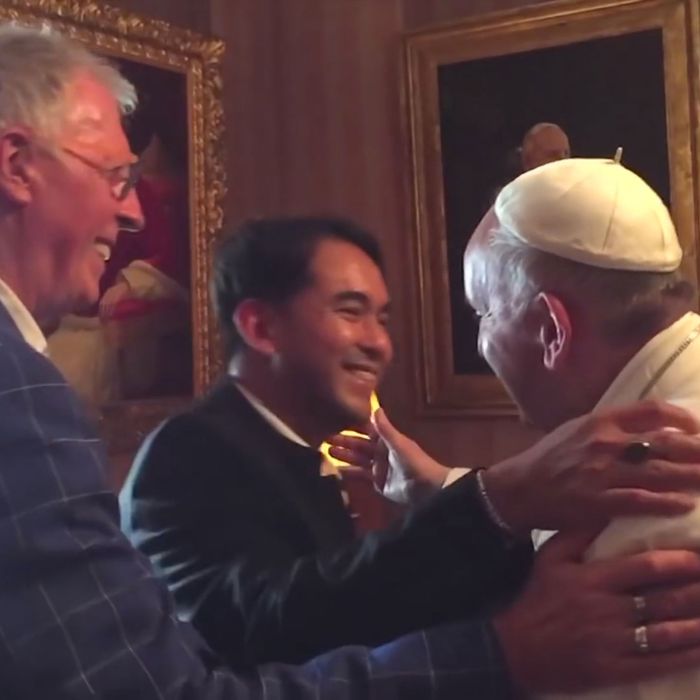 Before Pope Francis met Kim Davis in that not-so-exclusive Vatican Embassy bless-fest, he reportedly caught up with an old friend from Argentina — a boutique-caterer friend who's been in a same-sex relationship for two decades.
Friday morning, a Vatican spokesperson said that "the only real audience granted by the pope at the nunciature was with one of his former students and his family." That former student was Yayo Grassi and his partner, Iwan, at least according to Grassi.
On September 23, the pope welcomed the couple to the Vatican Embassy in Washington, and there were hugs all around. Apparently, Pope Francis had Grassi as a student in literature and psychology classes at Inmaculada Concepcion high school in Santa Fe, Argentina, in the mid-1960s. In all that time, the pontiff has never judged him about his sexuality or relationship, Grassi said in an interview with CNN.
"Obviously he is the pastor of the Church, and he has to follow the Church's teachings," Grassi told CNN, "but as a human being he understands all kinds of situations, and he is open to all kinds of people, including those with different sexual characteristics."
Which makes sense: After all, in a 2013 statement, which has come to define his papacy, the pope asked, "If someone is gay and he searches for the Lord and has good will, who am I to judge?"
Grassi added that he thinks the pope was "misled" into meeting with Davis and seemingly endorsing her cause.