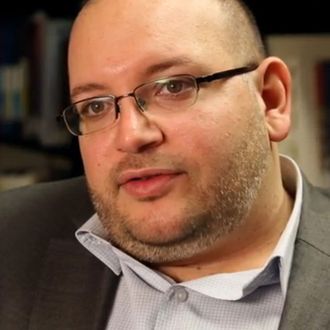 Photo: Zoeann Murphy/The Washington Post via Getty Images
Iran's Revolutionary Court has reportedly convicted Washington Post correspondent Jason Rezaian. Rezaian, who is a dual American-Iranian citizenship, has been jailed in Iran for over a year on four charges, including spying, though the details of the accusations against him remain unclear. (Also unclear: whether or not the judge has announced a sentence.) Rezaian's family and employer have always insisted that the 39-year-old did nothing wrong, and the United States government has repeatedly called for his freedom.
The Post reports that Rezaian's lawyer "is expected to ask the court to release [him] on bail until a final resolution is reached." In a statement, Post executive editor Martin Baron said: 
"The contemptible end to this 'judicial process' leaves Iran's senior leaders with an obligation to right this grievous wrong…Jason is a victim — arrested without cause, held for months in isolation, without access to a lawyer, subjected to physical mistreatment and psychological abuse, and now convicted without basis. He has spent nearly 15 months locked up in Iran's notorious Evin Prison, more than three times as long than any other Western journalists.

"The only thing that has ever been clear about this case is Jason's innocence," Baron continued. "Any fair and just review would quickly overturn this unfounded verdict. Jason should be exonerated and released; he and his wife, Yeganeh Salehi, who has been out on bail, should both be granted, without delay, the full freedom that is their right."
Meanwhile, the New York Times notes, "Iran appeared to be moving on Monday to position Mr. Rezaian's case as part of a broader effort to get the release of Iranians detained in the United States." Iranian leaders have raised the possibility of a prisoner exchange several times, with President Hassan Rouhani saying last month that he'd like to see the U.S. release Iranians "pursued for circumventing the sanctions." "I don't particularly like the word exchange," he said. "But from a humanitarian perspective, if we can take a step, we must do it." In addition to Rezaian, two other American citizens — a pastor and a former marine — are currently imprisoned in Iran.