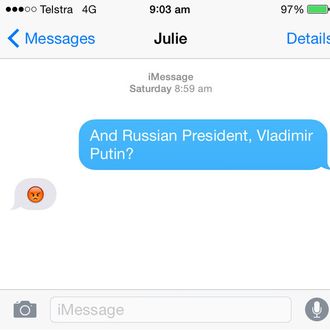 Earlier this year, for some reason, Australia's foreign minister, Julie Bishop, conducted a cheeky emoji-only interview with BuzzFeed, touted to be the world's "first political emoji interview." Maybe it'll also be the last. When asked to use one emoji to describe Russian president Vladimir Putin, she used the "mad face" emoji, otherwise known as the pouting face, red face, or grumpy face emoji. And now her political enemies at home are using it against her.
Using this emoji of a face worked up in petulant rage sparked a surreal exchange during an Australian parliamentary session Thursday. The Labor Party, led by Penny Wong, attempted to turn Bishop's cool-mom media moment against her. It yielded the following discussion, conducted between adult politicians:
"I'm trying to understand what is the public message from Australia's foreign spokesperson about our relationship – which is obviously, shall we say, a difficult one – with Russia, which is being expressed via emoji," said Wong  She continued, "It may be that the foreign minister is saying she is angry with him. It may be that she thinks he is a red-faced angry man. I don't know."
Attorney-General George Brandis thought that, instead, Bishop was up to something much more symbolic here. He felt that the red face "could be a reference to ideology," the Communist red of Russia past. Putin, after all, was in the KGB. (Though her emoji reference to China, which remains officially Communist, was the sunglass face emoji.)
Yet Bishop's Putin statement was communicated through the nondiplomatic channels of an iPhone, during a BuzzFeed interview, conceded Brandis: "Nobody suggests, and I don't understand you to be suggesting, that the communication concerned was a formal diplomatic demarche of any kind," he said.
Defusing the situation, he washed his hands of Wong's missing sense of irony: "It's plainly not an expression of our relationship with Russia."
Bishop herself was asked about the implications of her Putin emoji following the exchange. She told reporters that Putin was a "hard man" (so why no flexing-arm emoji paired with, say, the trotting horse?) who would appreciate her allusion to his whiny rage. "Having met President Putin I think he'd be delighted with the … emoji that I used to describe him," said Bishop.
The reason BuzzFeed did this interview was that the foreign minister has been using them prolifically on Twitter, joining the emoji language revolution of the last few years.