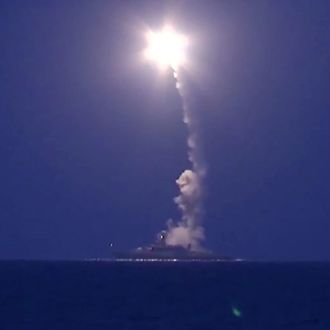 Photo: Russian Defence Ministry
Russian president Vladimir Putin continued to defy NATO and lend support to his fellow strongman Syrian leader Bashar al-Assad by launching cruise missiles into Syria from warships in the Caspian Sea, 900 miles away.
"We fired from the territory of the Caspian Sea, at a range greater than 1,500 kilometers, and hit targets precisely, this shows high qualifications," Putin bragged. The New York Times reports the strike comes as part of a larger coordinated offensive involving Syria and its allies: Hezbollah, Iran, and Russia. It is not currently known what was targeted in today's attack. But Russia, instead of attacking ISIS, has instead reportedly hit American-backed rebels seeking to unseat Assad, and on Sunday violated Turkish airspace, rattling nerves further.
The salvo coincided with Putin's 63rd birthday.