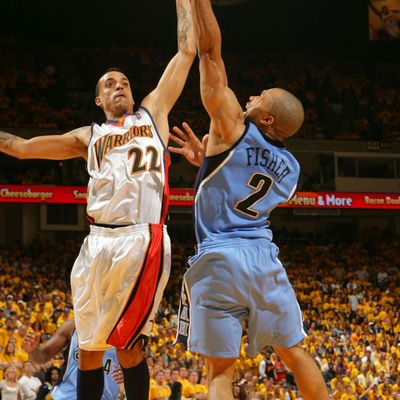 Matt Barnes and Derek Fisher.
Photo: Rocky Widner/NBAE/Getty Images
"Page Six" reports that Grizzlies forward Matt Barnes attacked Knicks coach Derek Fisher last weekend when he found out that Fisher, his former teammate, was dating Barnes's estranged wife. According to the report, the attack allegedly happened at the Los Angeles home of Gloria Govan, a star of the show Basketball Wives and Barnes's estranged wife.
One of the Post's sources says that Fisher, who filed for divorce from his wife of ten years in March, and Govan have been dating for "a few months." According to the Post's source, when Barnes learned that Fisher was at his former home, he drove 95 miles to Los Angeles to "beat the s–t" out of the Knicks coach. Here's how it went down, via "Page Six":
"Derek was in Gloria's back yard with about 10 people having a bonfire on ​​Saturday," said a source. "Derek's separated from his wife and there's a relationship with [Gloria]."

The source added, "Barnes was in Santa Barbara [at Memphis Grizzlies training camp] and heard that Fisher was in his house. He went crazy. He got in his car and went to the house and went after Fisher."
The paper cites a source close to Fisher that confirmed the incident but said that Fisher only had a few scratches and that he isn't going to press charges. That said, Yahoo NBA reporter Adrian Wojnarowski says NBA security "is aware." According to the paper, a Knicks rep says the team has offered total support for Fisher. Neither a Grizzlies rep nor Barnes's agent immediately returned the Post's calls for comment. Fisher and Barnes played together on the Lakers in 2010–11 and 2011–12.
Barnes is no stranger to controversy: In 2010 he was arrested on suspicion of domestic violence, though his then-fiancée Govan said at the time that the situation "was blown out of proportion" and that accusations were false. Barnes was arrested again in 2012 on a misdemeanor traffic warrant. In 2013 he was fined by the NBA for failing to leave the court after an ejection and for sending a tweet afterward that included the N-word. (He said after that he'd continue to use the word.) In January he was fined $25,000 for making inappropriate comments to a fan, and in May he was fined $50,000 for some rude trash-talking directed at James Harden's mom while she sat courtside at a game. (He later said he didn't know the fan in question was related to Harden.) Then in August he made headlines for telling TMZ that he and Rihanna were "just past the crush stage," though Rihanna later said she'd never even met Barnes.
Coincidentally, another member of the Govan family's social circle is in the news today as well. An excerpt of a book by Caron Butler ran on the Washington Post today, and it gives a firsthand account of the 2009 gun showdown in the Wizards locker room over money from a card game involving Gilbert Arenas, the longtime boyfriend of Govan's sister Laura (they've since split), and Javaris Crittenton. "Hey, MF, come pick one," Gilbert told Crittenton while pointing to four weapons in his locker, according to the excerpt. "I'm going to shoot your [expletive] with one of these."
Crittenton replied, "Oh no, you don't need to shoot me with one of those," and Butler writes that he turned around slowly and said, "I've got one right here." At that point, Butler writes, "He pulled out his own gun, already loaded, cocked it, and pointed it at Gilbert."