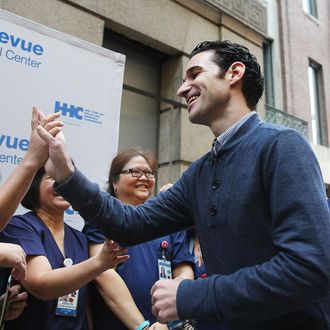 Dr. Craig Spencer, Bellevue Hospital after being released last year
Photo: Spencer Platt/Getty Images
The city's only Ebola case, Dr. Craig Spencer, met with the team that cared for him at Bellevue on Tuesday. It was a happy reunion but also a reminder of the necessity to prepare for the possibility of many more cases in the future. He met with his primary physician, Dr. Laura Evans, and Bellevue's medical director, Nathan Link, and was given an honorary staff badge for the hospital.
Dr. Spencer contracted the deadly disease in Guinea working with Doctors Without Borders' response to the West African Ebola crisis.
He became a minor celebrity for being the city's first and only confirmed case of Ebola during the height of the outbreak. But today Dr. Spencer said he's rarely recognized. "I didn't  15 minutes [of fame]. I got five."

In the last year, city hospitals have cared for 17 other patients who were suspected of having Ebola. According to Dr. Evans, the city's hospital system remains vigilant: "Our department of Health and Mental Hygiene is still doing active monitoring on 300 to 400 persons a day in New York City who have traveled to regions where there is Ebola. This unit is still activated."
Dr. Spencer has since married and returned to work in emergency medicine at New York Presbyterian–Columbia University Medical Center.
The Ebola virus remains active in parts of West Africa, particularly in Guinea, where it has averaged at least one new case a week for the last year. This past March, Dr. Spencer returned to the country for another stint with Doctors Without Borders.