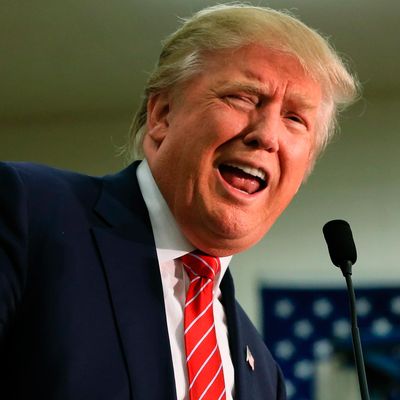 Donald Trump speaks during a rally at West High School in Sioux City, Iowa.
Photo: Nati Harnik/AP/Corbis
Donald Trump seems so mystified about why he's started losing in the polls to Ben Carson that he's taken to pleading with voters. "What the hell are you people doing to me?" he said at a recent rally. One possible explanation for Trump's tanking numbers: political ads. In the days before Carson surged into first place, his campaign blanketed Iowa's airwaves with 30-second spots. Iowan voters saw 400 Carson ads last week, according to one tally. On Friday, Bloomberg and the Des Moines Register released their latest poll, showing Carson with 28 percent and Trump at 19. Carson jumped ten points since the last time the poll was taken in August, and Trump was down by four points.
Carson's television blitz could make Trump's decision to delay airing political ads of his own a strategic blunder. All along, Trump has used his wealth and ability to self-fund his campaign as an applause line on the stump — and a weapon to attack his rivals. Back in August, he said he'd spent $1 billion to become president. But it's becoming increasingly clear that Trump is reluctant to part with any real money to sustain a national campaign. So far, for example, Jeb Bush and his super-pac have spent a combined $25 million, roughly five times as much as Trump.
Earlier this month, Trump told the Washington Post that he'd hired an ad agency, which he declined to name, to create his first spots. He even told the paper he'd come up with his own ideas for the ads:  "I have such a great concept — in fact, so good," he said.
But according to two sources with direct knowledge of the Trump campaign's planning, Trump recently rejected a bid from a Florida-based ad agency because he felt their proposal was too expensive. "They wanted a lot of money. Donald did what he always does: He bargained," one source told me.
Trump sources say he's planning to revisit the firm's proposal next week and make a decision. Corey Lewandowski, Trump's campaign manager, declined to discuss the negotiations. "You'll see the name of the firm on our next FEC report," he told me. The next report comes out in January.
In the meantime, Carson will be rolling out new 30-second ads in the four voting states later this month. And with Jeb Bush sitting on a $100 million war chest, it's only a matter of time before some of those millions get spent attacking Trump.