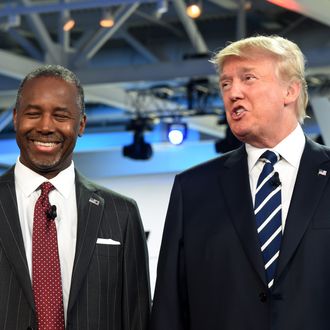 Photo: ROBYN BECK/AFP/Getty Images
The Secret Service will start looking after Donald Trump and Ben Carson early this week, with each of the two leading GOP candidates receiving  "approximately two dozen agents." Newsmax reports that "the agency's decision was primarily triggered by a significant number of threats to Carson," who — by spending late September saying offensive things about Muslims — seems to have offended his way into the need for federal protection.
From Newsmax:
The threats to the retired pediatric neurosurgeon have been "off the charts," the source said … The Secret Service and other federal agencies, including the FBI,  became increasingly alarmed in recent weeks as their own monitoring activities indicated that Carson faced serious danger.

The source said there was evidence that home-grown terrorists might be targeting a major political candidate like Carson. The Secret Service approached the Carson campaign to offer federal protection. Both Carson and his campaign strongly resisted the Secret Service's request at first, the source said. But then Carson reluctantly agreed to the deployment of agents after the agency warned of grave danger and shared certain intelligence.
Meanwhile, Trump "officially requested" a Secret Service detail, having already told the Hill:
"I want to put them on notice because they should have a liability," he told The Hill. "Personally, I think if Obama were doing as well as me he would've had Secret Service [earlier]. I have by far the biggest crowds."

"They're in no rush because I'm a Republican. They don't give a shit," Trump added as a joke.
Anyone with knowledge of the matter should feel free to leak Trump's code name.