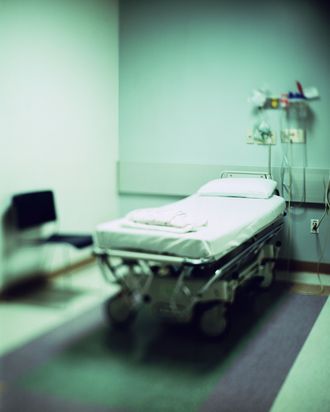 Photo: Michael Prince/Corbis
A Manhattan judge has ruled against a group of New Yorkers who sought to protect doctors statewide from culpability in the case of physician-assisted suicide.
The plaintiffs, Steve Goldenbeg, Sara Myers, and Eric Sieff, are patients with terminal illnesses who would like the option to be on the table if their conditions worsen.
Myers, who suffers from late-stage ALS, said in a statement, "Should I decide my dying becomes unbearable, I want my physician to be able to prescribe medication I can take to achieve a peaceful death."

State civil judge Joan Kenney says she is sympathetic to the plantiffs, but their doctors will have to find other ways to help for now: "In New York, as in most states, it is a crime to aid another to commit or attempt suicide."
Assisted suicide is legal in Montana, Washington, New Mexico, Oregon, and Vermont. California governor Jerry Brown recently approved a bill allowing assisted suicide in his state that should go into effect in April of next year.
Oregon citizens were the first to gain the right to die assisted by a physician in 1997. Since then, 859 people have chosen to end their lives in Oregon, including Brittany Maynard, who moved there from California in order to take advantage of the law last year after a prolonged battle with brain cancer.

Plaintiffs in the New York case noted that one third of patients in Oregon who request a prescription for drugs to assist their suicide never use them.

A lawyer for the group said they would appeal.