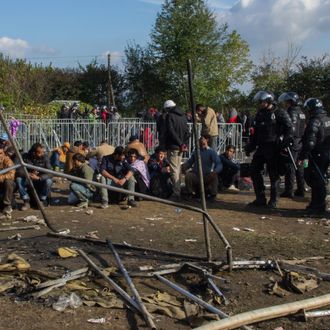 Refugees at a camp in Brezice, Slovenia, sit next to the remains of a tent that was destroyed by fire.
Photo: Bob Ramsak/Demotix/Corbis
Thick, black smoke spewed into the air above a Slovenian refugee camp, as flames tore through a small settlement Wednesday morning near Brezice, a town just over the border from Croatia. The fire burned through dozens of tents, reports the AP, and authorities suspect that migrants and refugees, frustrated and deflated by their long journey through Europe, set blankets ablaze in protest.
About 20,000 migrants and refugees have crossed into Slovenia from Croatia since Saturday, when Hungary officially sealed off its border with Croatia. The Slovenian government is unprepared for the flood of people and lacks the capacity to deal with the influx, forcing them to plead with EU leaders for additional aid and prompting the Slovenian government to pass an emergency measure to send approximately 200 soldiers to help patrol its borders.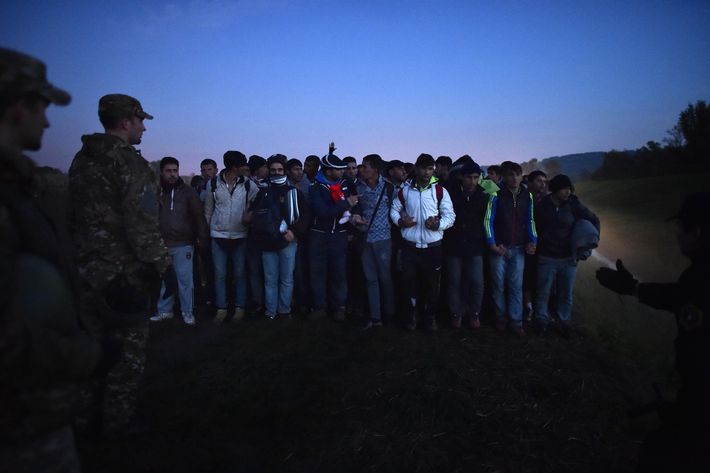 Still, the country is overwhelmed. The burned encampment in Brezice had to accommodate more than 4,000 who arrived Tuesday; it was built to house 250. On Wednesday, 3,000 more pressed into Slovenia from Croatia. The Slovenian government arranged buses to take the arrivals to the Austrian border, but the migrants had to wait in cornfields until the vehicles arrived. Chillier weather is also complicating matters, particularly as refugees are stranded outside at night in fields and in forests or try to wade rivers to get from one country to another.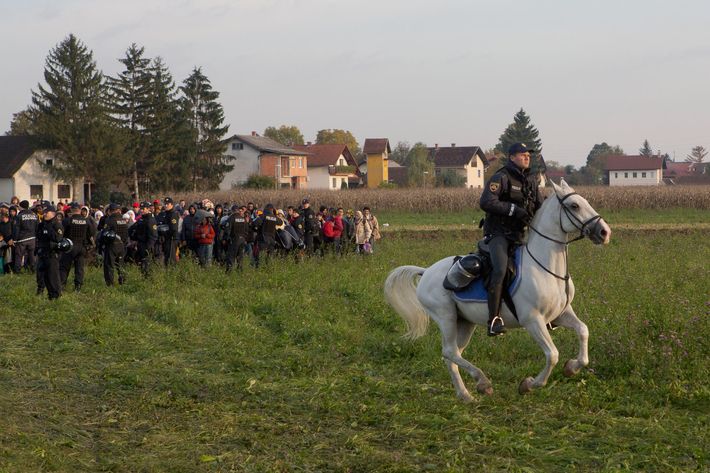 Slovenia also asked its counterparts in Austria to open a second refugee checkpoint, to help speed up the migrants' journey and avoid some of the chaos and confusion as refugees try to avoid the check-in centers. The AP reports that about 1,000 migrants entered Austria from Slovenia just Wednesday morning. About 4,500 arrived Tuesday.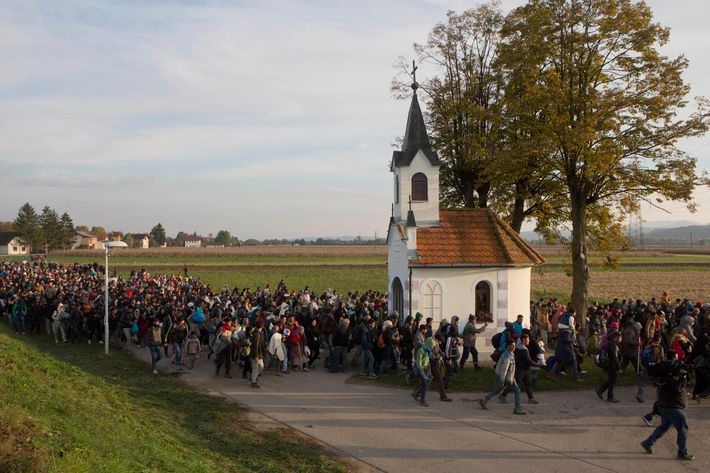 The humanitarian crisis in the Balkans won't abate any time soon, as thousands keep arriving by the day to Greece and Italy. On Wednesday, the first boatload of at least 140 refugees landed at a British Royal Air Force base on the island of Cyprus. Reuters reports these are some of the first refugees to arrive on the island — which is also a staging ground for some British air strikes against ISIS — signaling that some fleeing may be changing up their routes. More than 650,000 have crossed the sea to reach Europe so far in 2015.