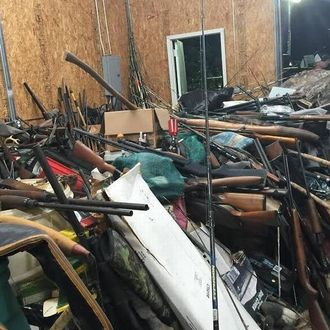 Photo: Chesterfield County Sheriff's Office
Brent Nicholson decked out his house like a postapocalyptic armory. When police raided the 51-year-old's home in Pageland, South Carolina, they found themselves surrounded by nearly 10,000 guns, 500 chain saws, several crossbows, some all-terrain vehicles, and a small herd of taxidermied elk and alligator heads.
Police tried to tally the number of guns in Nicholson's house but soon grew overwhelmed by the task.   
"There were so many guns we quit counting after a while," Sheriff Jay Brooks told the Charlotte Observer. Brooks estimated that the arsenal totaled between 7,000 and 10,000 handguns and rifles, the vast majority of which he believed to have been stolen. For Nicholson, though, the best description of the number of guns in his home may have been "not nearly enough" — police later found several hundred more firearms stockpiled in both his liquor store and parents' home.
Nicholson was arrested earlier in the week for heroin trafficking, and deputies were merely looking to serve him a subpoena when they first arrived at his house on Friday. But then they noticed a chain saw and welder lying on the front lawn, both of which the officers quickly identified as stolen property that they'd written reports on just days earlier, according to local channel WBTV. That led to a search warrant, which led to what felt like a Second Amendment–themed episode of Hoarders. 
"There's no evidence that he even used them," Brooks told the Observer. "There's no evidence that he was selling them — he just wanted them. His house looked like that hoarders program on TV."
Rusty Fender, Nicholson's longtime neighbor, told WBTV that he was baffled by the arsenal.
"He's always been a good cat, but you know, people do things," Fender said. "What was you thinking? Why was you collecting that many firearms? What was you planning on doing with them? I mean was you planning on starting a riot?"