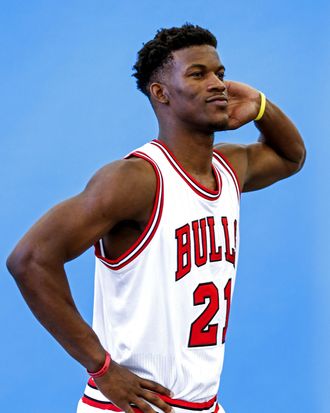 Photo: Tannen Maury/epa/Corbis
A profile of Chicago Bulls breakout star Jimmy Butler in Chicago magazine revealed the story of how the kid from a small town outside of Houston, Texas, powered through terrible circumstances to become an NBA All-Star, the most improved player of the 2014–2015 season, and the proud owner of a Mercedes G-Class SUV. Which, if you happen to find yourself driving behind, you might want to avoid following too closely.
Butler snapped his rear-view mirror off of the interior of his car as, as the piece puts it, "a symbolic reminder to never look back." You see, he grew up without a dad and got kicked out of his mom's house at 13, so it's understandable why he'd rather not focus on the past.
However, one man's metaphor is another man's moving violation. Illinois state law says that every car needs a mirror "to reflect to the driver a view of the highway for a distance of at least 200 feet to the rear." Side-view mirrors aren't going to hack it because they don't let you see that far. An interior rear-view mirror is required, or Mr. Butler could find himself facing a fine of up to $500.
None of this has any bearing on the fact that he's a great player, though.